by Vicki Denig
It's a sunny September morning in Paris and the city is barely awake. Sunday mornings in Paris are always quite somber, as most dwellers are recovering from their booze-soaked parties the night before. We too, are shaking off the lingering moments of our Saturday night fête. With a bag of pastries in one hand and a baguette in the other, we load into the rental car and pray that our stomachs will settle. We've got a big day ahead of us, but first, we must make it through the two hour drive to Epernay. No rest for the weary- we've got a big day in Champagne ahead of us.
As the car coasts along the péripherique and takes us out of the city, the landscape instantly changes. Lines of Haussmanian style buildings and bouts of polluted fog are replaced with vast open plains and crisp, clean air. I immediately roll the window down, stick my arm into the breeze, and take a deep breath in. This is la belle France, as they say. We approach the small village of Epernay and the scene is like something out of a movie. Church bells are ringing, locals faire la bise with passing friends, and groups of elderly men congregate on the corners smoking pipes and hand-rolled cigarettes. 
We pull out of the village and are immediately surrounded by rolling green vines as far as the eye can see. Small clusters of red rooftops dot the countryside, signifying that there are indeed small clusters of life that inhabit this sparkling emerald terrain. We pull the car over to snap some shots of the breathtaking view in front of us, climb back into the car, and in just a matter of minutes, find ourselves pulling in the parking lot of the Dhondt-Grellet house. 
Though this isn't your typical 'Champagne house.' No, this is actually a house-- a literal family house that has undoubtedly been inhabited by the same lineage of people for generations. We get out of the car and are greeted by an old man, whose French is so muffled and throaty, I can barely make out what he's saying. A tall, young man runs up behind him, saves me from my lack of comprehension, and immediately introduces himself as Adrien Dhondt. "Sorry, that's my grandfather," he laughs, and I am relieved to hear the clarity in his voice. "So, what can I do for you guys?"
I explain who we are, that we're here from Verve Wine to snap some shots of the estate, see the cellar, and be on our way. Though after a few minutes of chatting, it's clear we won't be leaving anytime soon. Adrien is tall and powerful, with a strong, stoic build and large bulging limbs. He wears Nike sneakers and a backwards Yankees cap-- this is not what I was expecting to see when I arrived at a traditional Champagne house. We descend into the cellar and he shows us around, pointing out where wines are aging and talks to us about the surrounding terroir. He pulls a wine from a stack of dusty bottles, illuminates the flashlight on his iPhone, and shows us the lees settling into the neck. Although I've read about this process countless times in wine textbooks, there's something so unique about seeing it with your own eyes and holding it in your bare hands. Like a child, I snatch the bottle from his hand, fascinated. We all laugh, and I blush at my childlike naivety.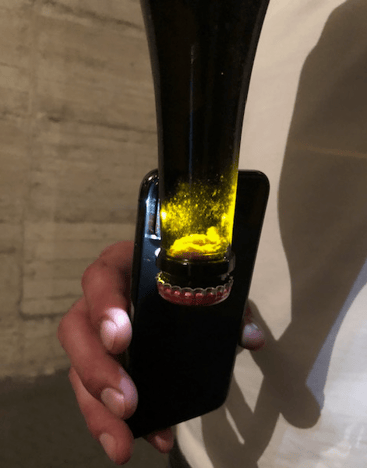 📷 : Vicki Denig
Back in 1986, Adrien's parents Eric Dhondt and Edith Grellet stopped selling grapes to négociants and began estate bottling. Today, Adrien-- who is only in his late twenties-- has taken over winemaking at the house. Adrien works with vineyard across the Côte des Blancs, all of which he farms organically and biodynamically. His vineyards are situated in the villages of Cramant (Grand Cru) and Cuis (Premier Cru). In Cramant, he works with three lieu-dits: Le Bateau, Les Longues Verges, and La Garenne. In Cuis, he farms nine plots, many of which are dominated by old vines. Adrien's choice to farm organically and biodynamically (non-certified) is based on his belief that these practices lead to healthy microbial life within the vineyards. All soils are plowed and composts are made at the domaine. No herbicides or insecticides are used.

After a brief moment of silence, Adrien suggests we taste some wines together and I stall. We received strict instructions to come to the house, get our photos, and leave promptly, as we are not to be a burden during such a busy time at the winery. It is September, after all, meaning that harvest is just around the corner. I ask Adrien when their pick will begin, and he responds with a slight chuckle, 'Ha! In fact, we've just begun today,' he says. I notion that we must go, and Adrien shoots me a baffled look, almost offended. "I mean, are you sick? Why would you not want to taste?" I begin to realize that it's essentially rude to show up to a Champagne house and not accept a pour when it's offered. I look to the floor and respond, "Well, if you aren't counting the slight hangover we're nursing, I'd say we're pretty OK." Adrien laughs. "You're not the only one," he says and flashes a smile, then scurries off to grab three glasses. 
We taste through Adrien's five wines and they are every bit as delicious as I remember them to be. 'Dans un Premier Temps' is the family's traditional Brut NV which represents all three villages he works with. The wine is a 50/30/20 blend of Chardonnay, Pinot Noir, and Pinot Meunier, finished with 6 g/L dosage. Crisp and easy-drinking, this is breakfast wine. We are pleased. We move onto 'Les Terres Fines,' which is his 1er Cru Blanc de Blancs, made exclusively from Chardonnay from Cuis. No dosage is added here. Fruit for 'Cramant' comes from Cramant and Chouilly, making this cuvée entirely comprised of Grand Cru fruit, vinified in barrel and steel. The texture here is wild, and I actually find myself closing my eyes to savor the fine bubbles that coat my tongue. 'Les Nogers' is made from Adrien's old vines in Cuis, and 'Le Bateau,' as to be expected, blows our minds. These vines were planted by Adrien's grandfather back in 1951. I think of the old man who greeted me in the parking lot and what it must have been like for him to work these same soils nearly 70 years ago. I smile, sip the wine, and savor it even more.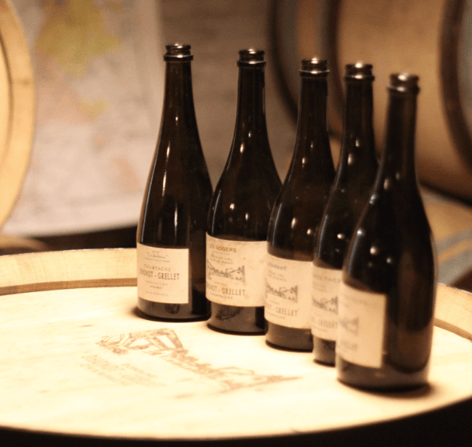 📷 : Jonathan Poff
 "Hey, do you guys have plans this afternoon?" Adrien asks, breaking me out of my day dreams of the house's past. "Why don't you stay and have lunch with my family?" We look at each other, shrug our shoulders, and accept the invitation. Pourquoi pas?
I'm no stranger to harvest meals in France, so I know that this is going to be an hours-long affair. We take a seat at the table with three generations of Dhondts, the second-generation of whom is scurrying around like a chicken with her head off at the realization that a vegetarian has joined the table. I assure her that whatever vegetables have been prepared will be just fine (ha, vegetables in France… that's a story for another day), and that I'm really here for the company. We sit around the table and are joined by Adrien's sister and her husband, who have just welcomed a new baby into the family only six days ago. Adrien beams with pride, mentioning that this new addition has made him a first-time uncle. The pride radiating from his grandparents' face is evident, and although they're pleased to host Adrien's new American friends, it's clear that this tiny little baby is the star of the show.
We eat a traditional hearty harvest lunch of grilled meats, potato gratin, and fresh salad, all washed down with a Lapierre Morgon magnum. I'm always so interested to see what winemakers drink when not working in their own cellars. I would have happily accepted any pour that was put in front of me, though I have to say, I am definitely not mad about the Lapierre mag. We finish our meal, walk a few steps over to the cellar, and see that the madness has officially begun; the first round of grapes has just been brought back from the vineyards.
Adrien scales the press and we stand in the cellar in awe. He invites us to join him atop the press, where buckets of Chardonnay are being thrown into the machine. I ask if I can help toss a basket in, and his colleague laughs with disdain. Ready to prove him wrong, I reach for a bucket and am immediately rooted to the ground. These bins are heavy. Adrien bends down, grab one side of the bucket, and we toss the fruit in together. I squeal with delight, and again, his cellar worker rolls his eyes at me, yet manages to crack a smile. Success. Adrien and I continue to work in tandem and dump the buckets of freshly picked fruit into the press, and after just ten minutes, my arms are shaking. This is truly back-breaking labor. I've always enjoyed my career as a writer, but after just a few minutes of this physical work, I've never appreciated my computer more.
After all of the fruit is loaded in, we realize that we've been with the Dhondts for over four hours-- and are naturally 90 minutes late for our next appointment. We kiss each family member goodbye and thank them for their hospitality, and they make us promise that we'll come back and visit again. French hospitality is not new to me. I've been lucky enough to experience it so many times in my young life, though it is never, ever lost on this jaded New Yorker. This small family embodies everything it means to be true vignerons: they are true farmers who work the land that means so much to them and aren't afraid to get their hands dirty for the sake of sharing what they have with the world. As much as I love the juice in their bottles, it's their passion, hospitality, and undeniable joie de vivre that gives me butterflies. Like the press full of fruit that we've just left in their cellar, I leave feeling full, fresh, and ready to produce something special. And that to me is the true essence of Champagne.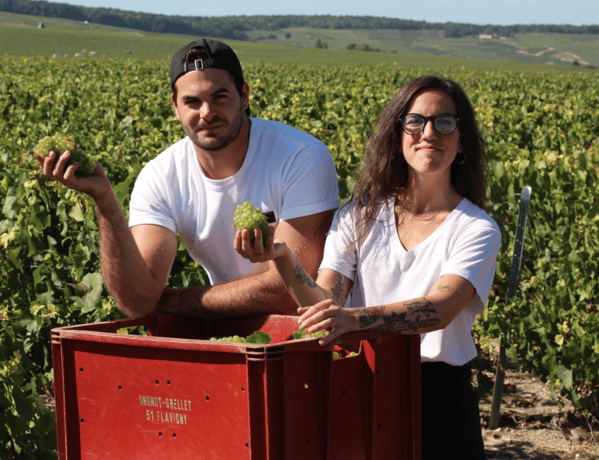 Adrien Dhondt and Verve's Vicki Denig     
📷 : Jonathan Poff