No matter what the occasion, sparkling wine always fits the bill. Whether brunching with friends, giving a holiday gift, or simply enjoying a glass at home after a long day at work, sometimes, a bottle of bubbly is all you need. However, knowing which bottle to pop is essential. Not sure where to begin? We've got you covered. We've gathered a list of our favorite types of sparkling wine below, pairing them with nearly every plausible situation where a bottle of bubs is needed. Simply pop, clink, and enjoy!
Weekend Brunching - Prosecco
Bubbles and brunch are synonymous with one another; however, these sparkles are likely to be mixed into fruit-forward, low ABV cocktails, meaning you definitely don't want to break the bank when shelling out for a few bottles. A high-quality Prosecco is delicious enough to drink on its own, yet alleviates the guilt of mixing budget-breaking wine with fruity ingredients. Basically, Prosecco and brunch are a match made in heaven.

Weeknight Drinking - Cava
Popping a bottle of bubbly is no longer dedicated to holidays and celebrations; sometimes, sipping sparkles on a casual weeknight is exactly what a long day calls for. Choosing a bottle of Cava will cost you less than a bottle of Champagne, however, the wine is made using the same process, giving the wine a similar texture to its fancy French counterpart. Savory and satisfying, with a Spanish twist!
Gifting - Champagne
When it comes to gifts, nothing shows you care like the real deal. Champagne's rigorous cool climate and rigid appellation restrictions give way to outstanding, world-class bottles, certain to impress whoever your gift recipient may be. Our recommendation? Steer away from larger, big-brand names and seek out smaller, grower-producers, whose bottles tend to be much more complex and interesting.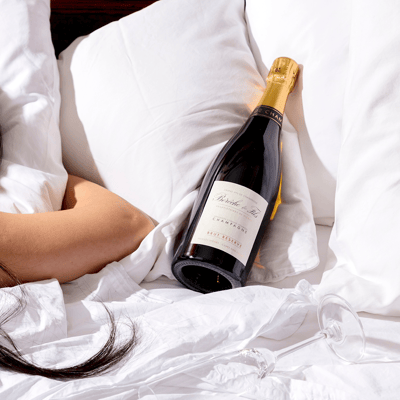 Outdoor Drinking/'Porch Pounding' - Pét-Nat
Don't let the carbonation scare you! Outdoor drinking isn't just limited to still whites and rosés; in fact, pét-nats are some of the most chuggable wines on the market. These sparklers get their bubbles via the méthode ancestrale, meaning that primary fermentation finishes in bottle (as opposed to undergoing a secondary fermentation), creating a light fizz, generally with small amounts or residual sugar and a low ABV. Pleasant, poppy, and insanely patio friendly-- perfect for day drinking!
Pizza Night - Lambrusco
For a truly authentic Italian night, forget the beer and pair your pizza with Lambrusco, Emilia-Romagna's signature red fizz. These frothy, fruit-forward reds are as fresh as it gets, pairing gorgeously with tomato sauce, cheese, and an array of pizza toppings. Bonus perk: Lambrusco is generally always affordable, assuring your dollar goes a long way. Saluti!
Celebrations - Magnums
We've said it before and we'll stick to our guns-- nothing shows you care like showing up with a magnum of wine, especially when it's sparkling! Whether Prosecco, Champagne, or anything in between, arriving with a double sized bottle of bubbles is always a crowd pleasing move, no matter what the occasion may be. Pop, clink, and fizzing never looked so good.