Everything You Need to Know About Portugal
Portugal's vast array of soil types, microclimates, and indigenous grape varieties make it one of the most unique wine-producing nations across the globe. Whether spritzy whites, boisterous reds, or sappy fortified wines are more your thing, when it comes to Portuguese wine, we personally cannot get enough of all that this diverse country has to offer.  
A Bit of Portuguese History
As with many of Europe's modern day viticultural regions, Portugal's cultivation of grapes dates back to Roman times. Wines were produced within the country's current borders, then exported back to the Roman Empire. During the Reconquista (1100 A.D.), much of the country's wine production diminished because the incoming Arab population steered away from alcohol for religious regions. However, by the early 18th century, Portugal's wine scene was booming again. Exponential amounts of Portuguese juice was being exported to England, and by 1758, the world's first wine appellation system was put in place within the Douro Valley. 
Today, Portuguese wine is consumed all over the world, beloved by consumer and industry folk alike. Two of the country's wine-producing regions, the Douro Valley and Pico Island, are designated UNESCO World Heritage sites. Portugal is divided into 14 major viticultural regions and is home to hundreds of indigenous and unique grape varieties, which are used to produce wines all over the flavor profile spectrum. 
Classification Systems
Contrary to popular belief, Portugal was the first country to use an appellation system, not France. Today, the classification system looks like this:
DOC (Denominação de Origem Controlada) - Highest designation for Portuguese wine, indicates superior quality 
IPR (Indicação de Proveniência Regulamentada) - Equivalent to France's IGP designation, indicates quality wine produced with regulations, though not as many as DOC labelled bottles
VR (Vinho Regional) - Regional Portuguese wine 
Vinho de Mesa - Table wine
Regions
Portugal is broken down into 14 major viticultural regions:
Minho 
Tras-os-Montes
Douro
Tavora-Varosa 
Dao 
Bairrada 
Beira 
Lisboa 
Tejo 
Alentejo  
Setubal 
Algarve 
Azores 
Madeira 
Terroir
Portugal may be small, but the country's viticultural diversity is pretty extreme. The country's northwesterly region of Minho has a similar terroir to Spain's Galicia region, in that it is extremely wet, humid, and is heavily influenced by the Atlantic Ocean. 
The country's centrally located regions, including the Douro, are dominated by a more continental climate, characterized by harsh, chilly winters and steaming hot summers. Here, extremely steep slopes make viticulture quite difficult. To combat this, many vineyards are cultivated on terraced hillsides. 
Portugal's eastern coastline, specifically within the Lisboa region, are particularly unique. Here, Atlantic influences, strong winds, and a warmer overall climate are key, though the region's real claim to fame is its sandy soils. While most of Europe's viticultural zones were devastated by phylloxera in the late 19th century, Lisboa's vines (particularly within Colares) stood strong, as the pest could not thrive in the region's sandy soils. This makes Lisboa home to some of the oldest vines around the globe.
Portugal's southerly regions, including the Azores Islands and Madeira, all benefit from ample sea-influence, cooling breezes, and warmer climates, leading to ripe, healthy fruit-- as well as some of the most breathtaking viticultural zones in the entire world.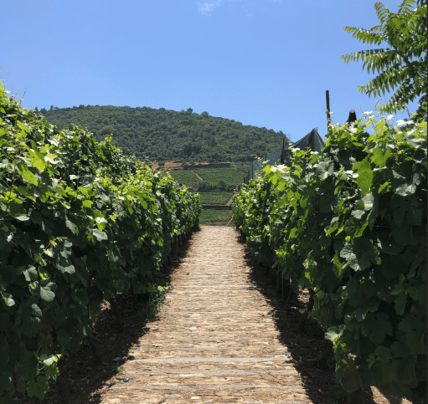 📸: Liz Burton Boyle
Grape Varieties
Portugal is home to a slew of indigenous varieties. From crisp, high-acid white grapes to juicy, sugar-laden red varieties, Portugal's insane grape diversity is what makes the country's production so diversified. 
For dry white wines, Alvarinho, Arinto, Loureiro, and Trajadura (Treixadura) are just a few of the many native varieties grown across the country. When it comes to Portugal's renowned fortified white wines (made in Madeira), Malvasia (Boal), Moscatel, Sercial, and Verdelho are key varieties. 
For dry and fortified reds, Touriga Nacional, Tinta Amarela, Aragonez (otherwise known as Tinta Roriz or Tempranillo), Bastardo, Castelão, Tinta Cão, Touriga Franca, Ramisco, Baga, and Alicante Bouschet are just a few of the many grape varieties cultivated. 
Key Wines
Portugal is known for a handful of easily ecognizable wines. The country's famed 'Vinho Verde' is produced in the Minho region; beloved by many, these lightly effervescent bottles of white are extremely easy to drink, thanks to their low ABV and slightly sparkling nature. 
Portugal is also known for its fortified wine production, centered in the Douro Valley and Madeira. In the Douro, the country's 'Port' wines are produced from Touriga Nacional and a slew of other indigenous varieties, made in a variety of styles and sweetness levels. In Madeira, white wine grapes are used to produce rich fortified wines, ranging from dry and salty expressions to opulent, molasses-like dessert bottlings.
📸: Liz Burton Boyle
For lovers of spritzy whites, bold reds, and all things deliciously fortified, look no further than this small yet viticulturally rich nation!
---