Pro Tips for Tailgating
Tailgating season is officially upon us and that can only mean one thing: the booze is officially flowing. So how exactly does one go about tailgating like a champ? Hint: All it takes is some savory snacks, the right set-up, and copious amounts of delicious wine. 
Yep, that's right-- wine. Although we at Verve Wine always believe in drinking what you love, when it comes to food and beverage pairing (especially during football season), tailgating snacks and wine are a match made in heaven. The high-acidity and fruit-forwardness in various styles of vino make it one of the most versatile and food-friendly beverages out there, perfect for pairing with juicy burgers, cheesy nachos, and a slew of other game day snacks. 
Though in addition to delicious wine, set-up is also key. For the ultimate outdoor tailgating party, we recommend setting up a handful of lawn games, scattering some folding chairs around the yard, and keeping a football or two on-hand to toss around. With all of the activity taking place, having unbreakable stemware to serve your wine in is key. We can't get enough of Govino's shatter-proof glasses, perfect for backyard bashes of any sort. For chilling bottles (and other boozy beverages) down, YETI soft coolers are where it's at. And don't forget the extra ice to keep those bottles chilled!
Over at our set-ups, we leave the grilling duties to our in-house Michelin-starred chef and good buddy, Austin Johnson. No award-winning chef on hand? No problem! Keep it simple: prep ahead of time, ask your friends to bring the sides, and serve your dishes with the top-notch wine pairings below. Get ready for your best season yet!
Burgers - Syrah
Nothing screams tailgating season like a grill stacked with juicy burgers. The earthy, dark fruit flavors and gritty tannins in Syrah make it one of the best grape varieties for pairing with beef (in all of its many forms.) For traditional Old World expressions, look no further than the Northern Rhône. For those looking to dive into the New World, California is the way to go.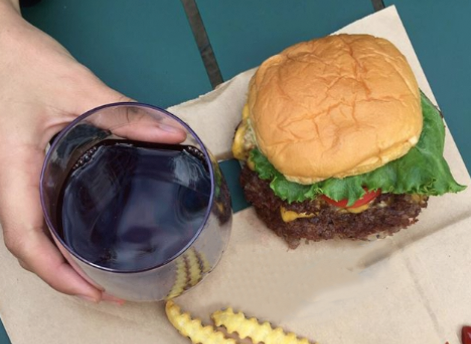 📸: Verve Wine
Ribs - Zinfandel
Ribs are generally prepared with a sweeter style marinade, making a fruit-forward wine with low tannins essential. Enter Zinfandel! Forget the stereotypes you've heard about the grape. This juicy, spicy, and downright delicious variety is perfect for pairing with sweeter-style meats. Grab yourself a bottle for a finger-licking good pairing!
Chili - Garnacha
No matter how you prepare your chili, one thing's for sure-- a structured, balanced, and medium-bodied red wine is the way to go. Although this pairing could go in a variety of directions, we personally can't get enough of Spanish Garnacha, especially from the northwestern/central regions of Spain. Look to producers like Dani Jimenez-Landi, Comando G, and Envinate for some of the country's top expressions.
Wings - Champagne
You've probably heard it a zillion times, but we'll say it again: fried foods and sparkling wine go hand in hand. The wines' naturally high acidity brings out all of the salty goodness in fried appetizers, especially chicken wings. Whether mild, hot, or straight fire is your preference, popping a bottle of Champagne is only going to enhance your wing-eating experience (we promise).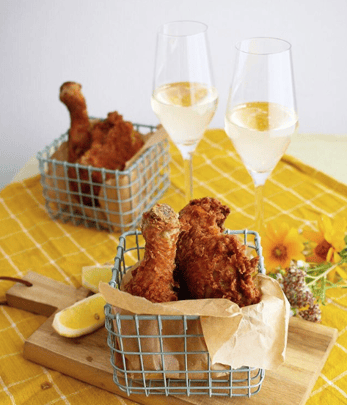 📸: Verve Wine
Nachos - Rosé
Rosé is quite possibly the most food-friendly and versatile style of wine on the planet. The juice's high acid, fruit-forwardness, and salty undertones make it killer with an array of foods, especially fatty cheeses, sour cream, and a variety of different legumes/vegetables. See where we're going with this? #Rosé(AndNachos)AllDay.
Pulled Pork - Gamay
Like ribs, pulled pork screams for a juicy red wine with low levels of tannins to complement its sweet sauce. Here at Verve Wine, we believe that Gamay is the go-to answer for all of life's wine needs. The grape's succulent, terroir-reflective, and high acid make it extremely easy to drink, even if food isn't on the table. Serve with a slight chill and get to #PatioPounding all season long!