Our Favorite Wine Bars in Paris
No one does wine culture quite like the French. Whether late morning, mid-afternoon, or post long day at work, there really isn't a bad time to imbibe in the City of Lights. For the French, drinking wine throughout the day is one of life's simplest pleasures, perfect for savoring amongst family and friends. Each time we visit Paris, we're blown away by the vast amount of incredible wine bars that dominate the city's streets. However, despite the countless amount of options, there are certain staples to which we always return. Looking to sip at Paris' best? Check out our favorite Parisian wine bars via the list below!
16 Rue Paul Bert, 75011
Tucked away in the heart of the 11th arrondissement, La Cave du Paul Bert always promises a good time. The space's long wooden bar and wine bottle covered walls create a warm and welcoming atmosphere, perfect for crushing one of the many selections from the joint's stellar list. Snack on favorite French classics such as terrine or eggs with mayonnaise, or grab a heartier meal next door at the cave's sister bistro.
La Buvette
67 Rue Saint-Maur, 75011
This charming hole-in-the-wall spot on rue Saint-Maur has become popular amongst the ex-pat community, thanks to its English speaking staff and killer wine selection. Expect a strong selection from South of France and Beaujolais, as well as selections from Italy, Spain, and even Georgia-- a rare feat to find in France. Don't miss the haricots blancs, as well as the creamy homemade burrata.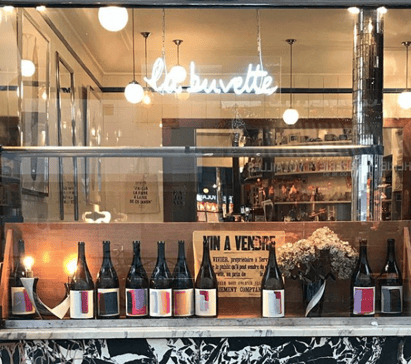 📸: La Buvette Paris
33 Rue Mazarine, 75006
Left Bank dwellers, fear not-- great bars do indeed exist on your side of the river. Located in the heart of Saint-Germain, Bar Etna provides a wine-soaked oasis away from the overpriced cafés and designer shops that occupy the neighborhood. By the glass offerings are based on what you like (simply tell your server what you're looking for) and the cheese plate is to die for.
Septime La Cave
3 Rue Basfroi, 75011
There's a reason why Septime La Cave is featured on every single Parisian wine bar list-- it really is that good. Situated just around the corner from its famed restaurant, as well as its sister spot, Clamato, 'La Cave' is the perfect place to pop in for a quick glass of something yummy. All wines at Septime La Cave are produced sustainably, organically, and/or biodynamically. Arrive on the earlier side to snag one of the few tiny tables or seats at the bar.
Compagnie des Vins Surnaturels
7 Rue Lobineau, 75006
It's true-- our beloved NYC wine bar also has a sister location in Paris! We adore Paris' version of CdVS for all the same reasons we love the spot in NYC: the wine list is killer, the people are lovely, and the mystery wine challenge gets us every time! Post up in this cozy Left Bank spot for an evening full of good snacks, great wine, and even better compagnie. 
41 Rue de l'Arbre Sec, 75001
Despite the tourist madness of the 1st arrondissement, Le Garde Robe remains as authentic as can be. Good wine, genuine staff, and a handful of outdoor tables make this place a diamond in the rough. Expect tons of good wine, cheese and charcuterie boards, and hours that go past 11PM on the weeknights.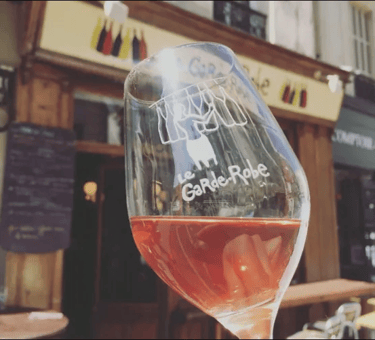 📸: Le Garde Robe Paris
6 Rue Charles-François Dupuis, 75003
This wine shop/wine bar hybrid is located in Paris' 3rd arrondissement, just a hop, skip, and a jump away from the Place de la République. Le Barav first opened its doors in 2007 and has since become a neighborhood staple, offering over 250 references of hand-selected bottles. Abundant outdoor seating makes this place a great option on warmer weather days.
13 Avenue du Président Wilson, 75016
The latest brainchild from Quixotic Projects (Le Mary Celeste, Candelaria, Hero, etc.), Les Grands Verres is undoubtedly one of the best places in Paris for wine with a view. Located in the rather quiet 16th arrondissement, this chic wine bar seats up to 170 people at a time and serves up top-notch food along their curated selection. For visitors looking to gaze upon the Eiffel Tower while simultaneously imbibing, this is your spot.
82 Rue de la Folie Méricourt, 75011
Ambiance is everything at Chambre Noir. Run by Oliver Lomeli, the space's brick walls, wooden tables, red roses, and slew of candles create a subtle, sophisticated vibe. Here, a great glass of wine will only run you about 5 euros, though the menu is only available at the bar. Snack on classic French wine bar food (cheese boards, charcuterie plates, pickled veggies… you know the drill) and bask in all of rue de la Folie Méricourt's charm.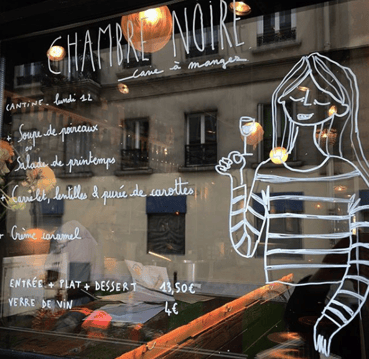 📸: Chambre Noire Paris
13 Rue des Petits Champs, 75001 
There's so much to be said about Willi's Wine Bar, one of the city's most long-standing staples. Located on the rue des Petits Champs in Paris' 1st arrondissement, Willi's boasts one of the largest (and greatest) lists in the entire city, featuring both up and coming vignerons as well as Old World classics. As their motto says, la vie, le vin, et l'amitié-- what more could you want out of your pending Parisian jaunt?