Etna is home to some of the most distinct vineyard sites in the entire world. Volcanic soils, extreme climate conditions, and saline-tinged sea breezes create a variety of different microclimates, many of which lead to terroir-reflective and site-specific fruit. Mount Etna is also home to a longstanding tradition of honest winemaking. To us at Verve Wine, this encapsulates growers that farm organically, put the environment first, and use a minimal-intervention mentality in the cellar. We can't get enough of the ashy, soil-driven bottles coming out of Mount Etna especially during this time of year. These wines are perfect for popping around the fire pit or pairing with seasonal fall cuisine. Here are five bad'ash' Etnean producers that you absolutely need to know. 
Salvo Foti - I Vigneri 
I Vigneri is spearheaded by Salvo Foti, a Catania-born Sicilian native. Foti decided to pursue oenology studies back in 1981 after years of working as an agrarian advisor. Inspired by the wineries with whom he worked (Benant, ViniBiondi, etc.) Foti set out on his own to create a passion-driven winemaking project. He founded I Vigneri as a collaborative effort amongst local growers and experienced cellar works equally passionate about the region and honest viticulture. Fruit for I Vigneri's wines comes from old, high altitude (700-1300 meters above sea level) vineyards near the town of Calderara. Extreme climate conditions and large diurnal temperature swings lead to concentrated and balanced fruit loaded with tons of natural acidity. All work is done by hand (or mule!) in the vineyards and no herbicides or pesticides are used. 
'I Vigneri' gets its name from an ancient Etna-based association, Maestranzi dei Vigneri, that strongly influenced the wine culture around Etna that we know and love. This hodgepodge of local growers and talent is perhaps one of the best expressions of authentic Etna-based winemaking coming out of Sicily today.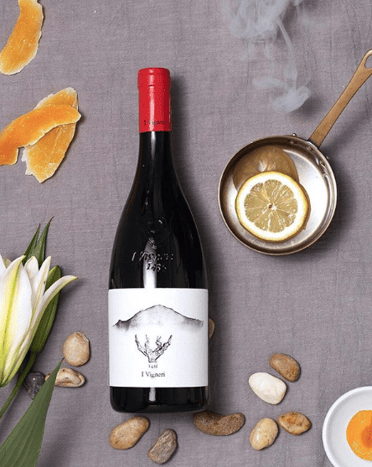 📸: Verve Wine
Benanti
Dr. Giuseppe Benanti, a Catania native and pharmaceutical entrepreneur, began producing wine from his family's estate vineyards over thirty years ago. At the time, Etna was home to less than ten wine producers. Benanti saw the extreme potential in Etna's growing sites and decided to switch his career path and dedicate his life to Etna's ashy, volcanic vineyards. In addition to farming his own land, Dr. Benanti became highly involved in getting the Etna DOC on the map. Benanti's vineyards are located on four different slopes in Etna, specifically around the villages of Santa Maria di Licodia (southwest slope), Viagrande (southeast slope), Milo (eastern slope), and Rovittello/Castiglione di Sicilia (northern slope). Today, Giuseppe's sons Antonio and Salvino spearhead the estate. The duo continues to focus on traditional Etnean varieties (Nerello Mascalese, Nerello Cappuccio, Carricante, and Minnella), which they believe best reflect the appellation's unique saline-tinged and volcanic influenced soils. 
Eduardo Torres Acosta
Tenerife native Eduardo Torres Acosta first learned winemaking from his father back in the Canary Islands. In 2012, Acosta took the plunge and moved to the sea-influenced coastlines of Sicily to intern with renowned winemaker Arianna Occhipinti. He then spent the next few years working at Passopisciaro, where he fell in love with the traditional mentality and honest viticultural scene taking place around Mount Etna. Acosta ultimately decided to set up camp here, and by 2014, he released his first bottles of wine from Etna. 
Eduardo Acosta is a passionate and hardworking winemaker. He believes that the best wines are made by hand via natural winemaking techniques and organic farming. He hones in on the region's indigenous varieties, Nerello Mascalese and Nerello Cappuccio, as well as the lesser-known white variety, Minella. Low yields, high altitudes, volcanic soils, and a slew of exposure/vine ages bring diversity to Acosta's line of wines, all of which are site-specific and thought-provoking in their own way. 
At  Acosta's winery, fermentations are done with native yeasts and aging is executed in a variety of vessels, from cement vats to lark oak botti. Acosta's wines used to be bottled under the broader IGT Terre Siciliane appellation rather than the Etna DOC, as he vinified them just outside of the region. However, as of 2018, Acosta is now the proud owner of his very own cellar in Etna, though he continues to bottle his wines under the less strict IGT. Acosta wines are known for their concentration, lifted aromatics, and vibrant, fruit-forward character.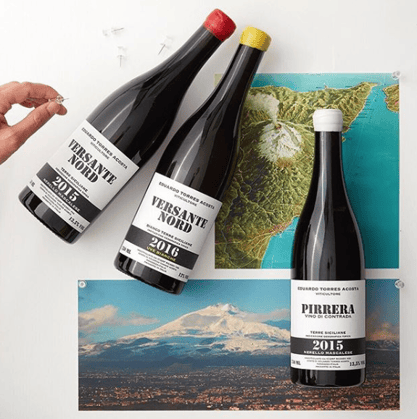 📸: Verve Wine
I Custodi 
I Custodi is the brainchild of Mario Palouzi, Salvo Foti, and I Vigneri, who work together to tend the volcanic stone terraced vineyards around Mt. Etna. Deemed the 'keepers of Mt. Etna,' I Custodi's mission is to shed light on the traditions, culture, and unmatchable growing sites of Mt. Etna through the use of organic farming practices. Here, abundant sunlight translates to warm volcanic soils, which are loaded with minerals and nutrients that lead to healthy fruit. Etna is known for its centuries-old winemaking tradition that has long been done without the use of chemicals, and I Custodi's mission is to carry on that legacy. Their white wines are racy and saline-tinged, while reds remain ashy and fruit-forward, marked by a distinct earthiness. 
Girolamo Russo 
We recently discovered the wines of Girolamo Russo and honestly can't get enough. Girolamo Russo had been farming vineyards in Etna for decades, though it wasn't until a few years after his passing (2003) that his son Giuseppe decided to begin bottling wines under their name. Giuseppe released his first vintage back in 2006, which was produced in a nearby garage. 
Today, Giuseppe farms 18 hectares of sea-influenced vineyards planted at 800 meters above sea level. Indigenous varieties, native yeast fermentations, and organic farming practices are all implemented at the estate. Giuseppe, a classical pianist and doctor of letters, has been deemed by his winegrowing neighbors as one of the top producers in all of Etna. His soft-spoken demeanor and creative focus often has him compared to a great poet. Russo's wines are rustic and harmonious, marked by zesty acidity, volcanic-influenced flavors, and a distinct sense of place.