Good wine, good booze-- we love it all. Whether crushing a bottle of mouth-watering wine or sipping slowly on an artisanal spirit, we always put sustainability, terroir-reflection, and downright deliciousness first. This weekend, we're paying homage to all of our favorite Mexican booze producers who consistently work year-round to produce high-quality beverages from below the border. With drinks this good, we're declaring that every day be celebrated like Cinco de Mayo!
What is it? Tequila is a distilled beverage produced from blue agave.
Where is it made? Jalisco (central western Mexico)
How is it made? Blue agave hearts (called piñas) are steamed in above-ground ovens prior to two or three distillations in copper pots.
Our Favorite Producers:
123 Tequila
123 Organic Tequila was founded by David Ravandi, a long-time cultivator of organic lowland agave grown in Jalisco, Mexico. Ravandi's process includes cooking ten-year-old agave piñas for two days in stone ovens, followed by double distillation. These small-batch spirits show an extremely pure expression of Jalisco terroir, greatly reflecting the land from which the agave comes.
Azteca Azul
Produced by Tequila Supremo, one of the finest agave-based spirit producers in the world, Azteca Azul has one of the greatest commercial success stories to come out of Mexico. Owned by La Familia Camarena of Arandas, the business was originally founded by Augustin Camarena in 1938. Their blue agave comes from the highlands of Mexico, characterized by red soils and high altitudes. Tequila Supremo also founded the 'Zero D' process, which ensures that zero waste charges are emitted during distillation.
What is it? Mezcal is a distilled beverage made from over 25+ different types of agave.
Where is it made? Oaxaca (southern Mexico)
How is it made? Piñas are cooked underground in hollowed out pits lined with rocks, wood, and charcoal, followed by distillation in clay pots.
Our Favorite Producers:
El Jolgorio
Named for the local ceremonies and festivals of the villages of Oaxaca, El Jolgorio produces nine different mezcals from an array of wild-harvested species of agave, twice-distilled by local Master Distillers in the Zapotec villages. Each of these small-batch bottles indicates the species, age of agave, production village, and the name of the Master Distiller, making every bottle uniquely special. For the heart and spirit of Oaxaca, look no further than these handcrafted bottles!
Noble Coyote
Noble Coyote is a premium mezcal brand based in San Luis Amatlan, dubbed Oaxaca's 'cradle of mezcal.' Four different types of agave are each used to create single-origin bottlings, with sustainability and respect for the environment always placed first. Noble Coyote has also created a wild agave seed bank for the sake of cultivating and reforesting the local land with wild agave.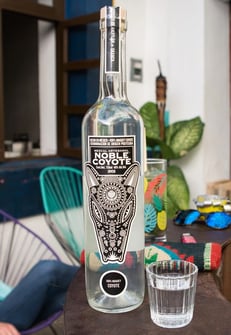 📸: Noble Coyote
YOLA Mezcal
YOLA Mezcal was created in 1971 and is a joint collaboration between Yola Jiminez, Lykke Li, and Gina Correll, owned and operated entirely by women. YOLA's mission is to make waves in the patriarchal society of Oaxaca, championing the ability and success of strong women, while also providing a safe work environment and steady work. YOLA Mezcal is entirely handcrafted, using the region's 300 year old traditional techniques, as well as the original recipe passed down by Yola's grandfather.
What is it? Wine is an alcoholic beverage produced from fermented grape juice.
Where is it made? Most Mexican wine is made in the northern part of the country, with Baja California dominating production.
How is it made? Yeast and sugar in grapes combine to produce carbon dioxide, heat, and alcohol.
Our Favorite Producers:
Bichi
Founded by Noel and Jair Téllez, this Baja California Norte estate focuses on head-pruned, non-irrigated, and organically farmed vineyards, planted at high altitudes. The wines of Bichi, which means 'naked' in the local dialect, are energetic and vibrant, produced indigenous regional varieties, farmed and vinified with a hands-off mentality. The family's ten hectares of vines are farmed organically and biodynamically, with fruit destemmed and trodden by foot, natively fermented in concrete amphorae, and aged in a combination of neutral wood and steel.
TRESOMM
TRESOMM was founded in 2017 by Taylor Grant, Conner Mitchell, and Christopher Miller MS, based in the Valle de Guadalupe in Baja, Mexico. Taken by the immediate connection the trio felt to the region, TRESOMM was born out of passion and love for the Baja. Now in partnership with winemaker Camillo Magoni, TRESOMM focuses on producing thought-provoking bottles from indigenous Italian and French varieties, including Grignolino and Aligoté.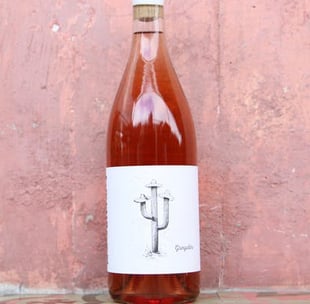 📸: TRESOMM