Come late spring, most wine drinkers are packing away their bottles of red and swapping them out for something more refreshing. As much as we love crisp whites, fizzy pét-nats, and #RoséAllDay, we're not totally ready to kiss our red wines goodbye just yet. In fact, if there's one thing we want to be crushing all summer long, it's Gamay from Beaujolais. From food-friendliness, to sustainability, to a massive amount of budget-friendly options, here are five reasons why you should be sipping Beaujolais all summer long.
Wine from Beaujolais Is Crazy Refreshing
Red wine from Beaujolais is crafted from Gamay, which is naturally high in acidity and super low in tannins. These two characteristics work together to create insanely thirst-quenching bottles that keep your palate salivating for more, without any significant tannin-induced dryness. Although exact flavor profiles vary from appellation to appellation, you can pretty much expect bright, fruit-forward bottles, full of crunchy cranberry, raspberry, and cherry flavors. Don't forget to serve the wines slightly chilled! Pop in the fridge for ten minutes prior to sipping for ultimate enjoyment.
Lots of Beaujolais Is Well Made
Here at Verve Wine, we're huge advocates for wines that are made properly, meaning that fruit is farmed sustainably and minimal intervention is used in the cellar. Beaujolais is a mecca for organically farmed fruit, as well as like-minded producers who seek out terroir expression over winery manipulation. To top it all off, a good number of our friends make wine within the region, too! Check out the bottles from Domaine Chapel and Domaine de la Grand Cour to get to know some of our closest buddies.
And on that note, Beaujolais is frequently credited for the start of the modern-day natural wine movement. It all began back in the early 1980s, when Marcel Lapierre first met Jules Chauvet, the unofficial godfather of non-interventionist winemaking. Lapierre eagerly emulated Chauvet's style, using 'radical' and 'revolutionary' practices in the vineyard and cellar, which included organic farming, removal of chemicals, and native yeast fermentations. Guy Bréton, Jean-Paul Thévenet, and Jean Foillard quickly followed, revolutionizing the way neighboring vignerons treated their vineyards. Renowned importer Kermit Lynch dubbed their group as the 'Gang of Four,' which has since become an iconic symbol for those who love good wine.
Wine from Beaujolais Is Insanely Food-Friendly
Warm weather months are all about weekend barbecues, outdoor brunches, and after-work wine on the patio, all of which involve yummy food. Gamay's naturally high acidity, low tannins, and general fruit-forwardness are excellent for creating food & wine pairings, matching gorgeously with an array of dishes. Whether grilled meats, roasted veggies, or simple cheese and charcuterie boards are on the menu, you won't go wrong with serving a bottle of Gamay.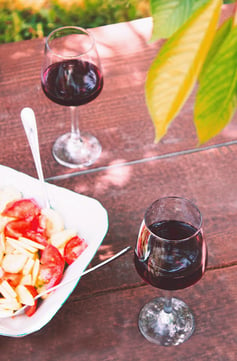 Perfect for a summer picnic
Best of All, It's Affordable
Unlike neighboring Burgundian Pinot that will cost you a pretty penny, Gamay based wines from Beaujolais are significantly less expensive. Wallet-friendly and delicious, these wines are excellent to drink now, but will also hold up for years to come in the cellar. Invest in a mixed case to get to know the region and its appellations better. Pop some now, lay some down to revisit in a few years-- your future self will thank you!