Fall flavors are some of our favorites; from rich soups and stews to pumpkin spice everything, we look forward to gorging on these earthy, savory flavors all year long-- though knowing which wines you should drink with them are key. Whether roasted root vegetables or savory beef stew fill your fall cravings, we've got just the wines you need to carry you through your favorite leaf-drenched season.
Game - Northern Rhone Syrah
Pheasant, pigeon, duck-- you name it. No matter which game bird you're serving, Northern Rhone Syrah is always a good idea. The spicy, meaty character of varietal Syrah, coupled with the savory flavors of various game, is a quintessential fall pairing that is not to be missed.
Squash - Viognier
Whether butternut, courgette (zucchini), or pumpkin is your gourd of choice, squash is synonymous with all things fall. Baked, roasted, and puréed into soup are some of our favorite ways to consume these seasonal squash; next time squash is on the menu, try serving with a bottle of Viognier. The wine's lower acid and medium-full body bring out the luscious and savory round flavors of squash dishes.
Beef Stew - Red Bordeaux
Although a plethora of red wines would pair deliciously with seasonal beef stew, we can't help but turn our heads towards France. The rich, fattiness in the beef stands up perfectly to an array of Bordeaux blends, both Merlot dominant (Right Bank) and Cabernet dominant (Left Bank). Pick your poison-- either way is a win. 
Roasted Root Vegetables - Chenin Blanc
Roasted root vegetables are one of those side dishes that often end up being more exciting than the main protein-- and it's no wonder why; sweet potatoes, turnips, onions, and carrots, lightly drizzled in oil and salted, oven roasted until browned… our mouths are watering just thinking about it! When it comes to wine pairing, roasted root vegetables are extremely versatile. For white, we recommend a rich and round bottle of Chenin Blanc; the wine's rich, honeyed-like note, coupled with green-apple driven acidity, make it the perfect seasonal pairing.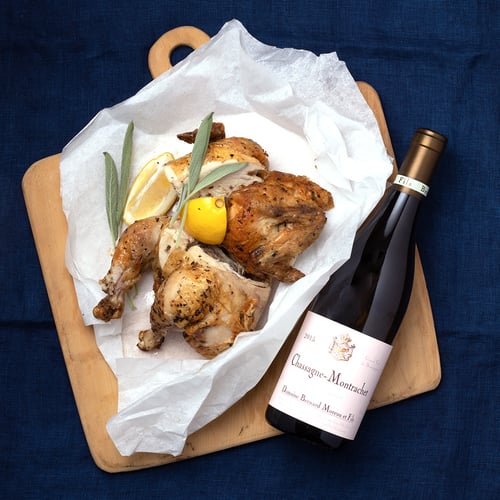 Pair roast chicken with Pinot Noir, a rich Chardonnay, or a White Burgundy  
Roast Chicken - Chardonnay (Burgundy)
When we think roast chicken, one thing comes to mind: Burgundy. While Pinot Noir or rich Chardonnay could really go well here, we can't help but salivate over the idea of a luscious White Burgundy, served alongside tender, seasoned roast chicken. For red wine lovers, you equally know where to look…
All Things Mushroom - Pinot Noir
Whether served in stew, slathered on chicken, or mixed into risotto, mushrooms are one of fall's greatest gastronomical gifts. Versatile and flavor packed, these earthy, terroir-driven funghi love being paired with an equally soil-driven red, such as a Pinot Noir from Burgundy or California.
Truffle & Parmesan Risotto - Barolo
Truffles & Barolo. Need we say more? These two food and wine pairing components make up one of the wine world's most quintessential and classic pairings, depicting a simultaneous sense of terroir in the most mouthwatering and mind blowing way. Don't let the season pass without tasting these two together!   
In addition to these pairings, there are 5 simple rules to know when pairing food and wine and five to know what NOT to do when pairing food and wine, be sure to check them out.