5 Northern Rhône Producers You Need to Know
Here at Verve Wine, our love for the Northern Rhône knows no limits. From savory and spicy Syrah to unctuous, mouth-coating whites, we absolutely can't get enough of what this small yet fierce French region brings to the table. Best of all, some of the wine world's most talented, captivating, and honest winemakers on the planet call the Northern Rhône home. Curious to learn more? Here are five of our favorite Northern Rhône based vignerons that you absolutely need to know. 
Thierry Allemand
When it comes to Cornas, Thierry Allemand reigns king. Allemand is credited for putting the appellation back on the industry's radar after a (far too) long hiatus. Although once beloved by Charlemagne, the wines of Cornas took a turn for the worse for centuries to follow. Large négociants gave the region a pretty bad reputation, notably due to their wines' austere, tannic, and nearly undrinkable nature.
However, by the 1980s, a handful of hardworking winemakers began resuscitating the appellation's vineyards-- and Thierry Allemand was at the helm of it all. At the time, Allemand was working chez Robert Michel, where he learned the ins and outs of pruning, grafting, and farming the terraced slopes of Cornas. Thierry simultaneously began acquiring vineyards plot by plot throughout the appellation. After 15 years of working and replanting by hand, Allemand finally had the means to entirely dedicate his life to his vineyards-- though his renown was already pretty widespread. 
Today, Thierry's five hectares of vineyards lay scattered across some of Cornas' best microclimates. Located on the western bank of the Rhône, Allemand's vineyards benefit from optimal sun exposure and are comprised mostly of granite soils. Thierry is a huge advocate for single-parcel farming, as he believes that the smallest details of each specific lieu-dit are what makes Cornas wines so special. Thierry's two cuvées, 'Les Chaillots' and 'Reynard,' are both produced with organically farmed fruit, whole cluster fermentation, and are aged in oak foudre/barrique for 24 months until being bottled unfined and unfiltered. Allemand's wines are known for their traditional style, minimal use of sulfur, and insane ability to withstand the test of time. There's no doubt in our minds that Allemand will always be regarded as one of the Rhône greats.
Read more: French Wine Regions and Producers
Jean-Louis Chave
If Allemand is the king of Cornas, then Chave is undoubtedly the monarch of Hermitage. Few vignerons have mastered the wisdom, knowledge of the land, and knack for winemaking like that of Jean-Louis. The Chaves began crafting wine in Hermitage back in 1481, making them a staple within both the appellation of Hermitage and the Northern Rhône region as a whole. 
Aside from their deep roots and incredible growing sites, it's Jean-Louis' and his father Gerard's impeccable blending skills that take these wines to a whole 'nother dimension. Rather than focusing on single-vineyards, the Chaves assemble and blend their cuvées from an array of plots, believing that this is the best way to achieve harmony, texture, and create an overarching reflection of regional terroir within their final wines. Their Hermitage Rouge, which is produced entirely from 'Bessards,' is the family's signature cuvée and is arguably one of the best produced wines around the globe year after year. In addition to farming world-class Syrah, the Chaves also cultivate a bit of Marsanne and Roussanne, which they use to make their Hermitage Blanc. The family also makes a more affordable (yet just as delectable) array of wines from Saint-Joseph, and as of just a few years ago, Jean-Louis began crafting négociant bottlings under the JL Chave Selections name, which unites his unmatched winemaking talent with various Rhône vineyard sites. Chave wines are known for their artisanal craftsmanship, perfumed elegance, and power, as well as their outstanding longevity in the cellar.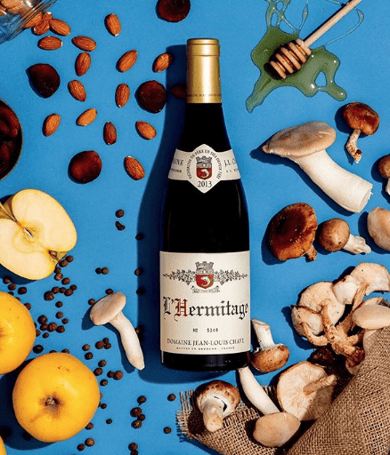 📸: Verve Wine
Domaine Clape
Auguste Clape is a legend in the Northern Rhône. Formerly the mayor of Cornas, Auguste was known for his grace, hard work, and above all, unwavering dedication to his village and his vines. Auguste came from a family of Languedoc winemakers, though grower strikes in the early 20th century forced them out and into the Northern Rhône-- and thank goodness for that. In a time where most growers were selling off their fruit to négociants, Auguste was the first to estate-bottle his Syrah and sell it under his own name in Cornas. Simply put, Auguste was a proud pioneer of his land and his labor. 
Since his passing in 2018, Auguste's son Pierre-Marie and his grandson Olivier now run the show at this celebrated estate. Today, the Clapes own eight hectares of vines across some of Cornas' most highly sought-after vineyard sites, as well as a few scattered plots in neighboring appellations. All work is done by hand and decisions in the vineyard/cellar are made based on instinct and taste. For the Clapes, working with old vines and allowing their fruit to reach optimal ripeness is key. Parcels are vinified separately and are whole cluster fermented. Long aging times of 12-22 months are implemented and are always done in neutral oak. For a taste of 'Old School' Syrah at its finest (as well as a piece of bona fide regional history), look no further than these flawless bottles.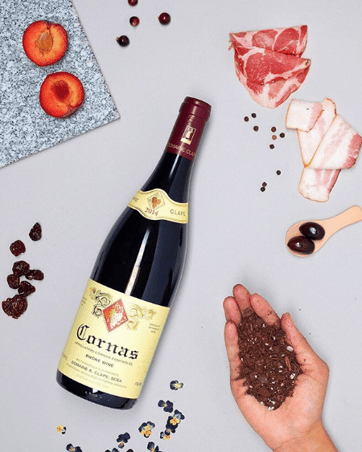 📸: Verve Wine
Hervé Souhaut
As much as we love the classics, embracing the new, the natural, and all things delicious is also one of our top priorities-- and Hervé Souhuat checks all of these boxes. Hervé founded Domaine Romaneaux-Destezet just over 25 years ago and has since become somewhat of a superstar within the natural wine world. His vines range in age from 50 to 100 years old, and two of his vineyard sites are located just opposite the famed Hermitage hill. Hervé's vines benefit from high elevations, southeastern exposures, and large diurnal temperature swings that keep fruit ripe yet balanced. 
One of the most defining features of Hervé's winery is that it's located under 'Les Romaneaux,' a fortified farm that dates back to the late 1500s. The vineyards that surround this epic house provide the fruit for his Souteronne and Syrah cuvées, as well as a handful of his white blends. Like the vignerons above, Hervé works exclusively with whole clusters, as well as semi-carbonic maceration. 
Hervé's wines are known for their finesse, balance, and approachability in their youth, something that not many bottles from this esteemed region can boast (though his wines can certainly withstand the test of time, too). To achieve this, high levels of acidity, purity of fruit, and well-integrated tannins are key. Hervé's latest project, Les Marécos, was founded in 2015 and is a joint venture with his neighbor Michel Savel. The duo replanted a handful of hillside vineyards from which they craft two delicious blends, one red and one white, that are just as unmissable as Hervé's wines. Looking for something to drink now and also lay down (AKA, the best of both worlds)? Souhaut's bottles are just the ticket.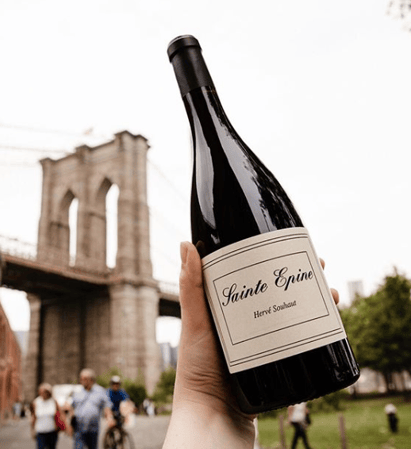 📸: Verve Wine
Read more: What You Need to Know About Natural Wine
Aurélien Chatagnier
Continuing with the new and the natural, we can't get enough of Aurélien Chatagnier and his thought-provoking bottles. A true farmer (and hippie) at heart, Aurélien founded his namesake domaine back in 2002. At the time, Aurélien was in his early 20s and did not come from any sort of winemaking legacy. However, after years spent working at Domaine Jamet, he knew that purchasing and cultivating his own vines was his end goal.
Aurélien went on to work for Francois Villard, who was the driving force that pushed him to venture out on his own. After renting one modest hectare of vines, Aurélien slowly but surely built up his holdings to almost ten hectares, most of which are situated at the northernmost edge of Saint-Joseph. His vines are deeply rooted into steep granitic slopes, and his house style of wine is lean, honest, and pure. Chatagnier wines are approachable in their youth, juicy, and easy to drink. Best of all, they're crazy affordable. Aurélien is hands-down one of the best winemakers in the Northern Rhône and we can't wait to see what he'll do next. 
Our love for Northern Rhône vignerons doesn't stop here. Some of our other top picks include Lionel Faury, Domaine Jamet, the always charming André Perret, Vincent Paris, and Guillaume Monier of Monier-Perréol. From the classics to the up-and-comers, one thing's for sure: when Northern Rhône Syrah finds its way into our glass, we're usually far from disappointed.