Dining out in NYC certainly isn't cheap, and usually the booze bill is to blame. Thankfully, the city is loaded with hidden BYOB gems that are perfect for eating well, drinking better, and saving a hefty amount on date night out. Not sure where to go? Here are some of our top picks for BYOBs in New York  City (wine recommendations included). Simply shop, sip, and save a little extra cash-- perhaps even enough for round two tomorrow night!

Wu's WonTon King - 165 E. Broadway, New York, NY 10002
It's only appropriate that we open our BYOB list with New York's most infamous Chinese restaurant. Long beloved by the wine industry, this East Broadway based eatery is perfect for chowing down on classic Asian favorites, including dim sum, barbecue, and fried rice offerings. With an extensive meat and veggie menu, Wu's is perfect for gathering carnivores and vegetarians alike, all of whom are certain to leave bursting at the seams. 
Our Wine Recommendation: What better wine to bring to a BYOB than Champagne? These bottles tend to run pretty high on restaurant lists, so popping them without the extra markup makes them that much more enjoyable. Plus, with all of the rich and oily food you'll be consuming at Wu's, we can't think of a better recommendation. 
Noreetuh (No Corkage Sundays) - 128 1st Avenue, New York, NY 10009
Elevated Hawaiian cuisine, epic weekend brunch, and a super fun location? Count us in. This newly opened village hotspot has become one of our favorite go-to spots for BYOB fun (we can personally vouch-- this is where we held our Verve Wine holiday party this past year!) Known for their extensive musubi offerings, pineapple braised pork belly, and various kimchi and tempura dishes, this authentic East Village restaurant provides the perfect for long Sunday meals around the table. (Side note: the truffle taro chips are absolutely unmissable.)  
Our Wine Recommendation: #RoséAllDay? More like #RoséEverySunday at Noreetuh. Savory, fruit-forward, and downright delicious rosés produced at the hands of great winemakers are some of the most food-friendly bottles of wine on the market. Bringing a bottle of rosé to Noreetuh ensures that your wine is rich enough to stand up to some of the restaurant's heartier cuisines, yet light enough to pair with the joint's fish-focused options. Basically, rosé is the goldilocks of food and wine pairings-- these bottles are just right. 
Popina (No Corkage Wednesdays) - 127 Columbia St, Brooklyn, NY 11231
Riverside Italian dining with an outdoor bocce patio? Count us in. Located in the heart of Cobble Hill, Popina is best-known for its Roman inspired pasta favorites, including cacio e pepe, bucatini with anchovies and caramelized onions, fettuccine with chestnut and mushroom ragu, and bombolotti with lamb sausage. Head to this gorgeous waterfront spot on Wednesdays with your favorite bottle of wine and enjoy some of the best pasta we've tasted in Brooklyn. 
Our Wine Recommendation: Classic Italian fare and Nebbiolo simply go hand in hand. Our mouths are watering just thinking about the endless #PastaAndPiedmont possibilities!
SriPraPhai Thai Restaurant - 64-13 39th Ave, Woodside, NY 11377 
SriPraPhai has been a Thai staple in the city's BYOB scene since the 1990s. Founded by Sripraphai Tipmanee, this sensational restaurant was originally a small Thai bakery, which Sripraphai slowly but surely grew over time. Known for traditional homemade Thai dishes including pad thai, noodles, fried fish, soft shell crab, and of course, a slew of epic desserts, SriPraPhai now serves over 120 options that represent various regions of Thailand and its thought-provoking cuisines. Vegetarian friendly! We can't recommend this Queens-based joint enough. 
Our Wine Recommendation: For all things hot and spicy, look no further than a bottle (or two) of off-dry Riesling. The small amounts of residual sugar in these wines are perfect for offsetting the heat of some of SriPraPhai's spicier dishes, and the bucketloads of thirst-quenching acidity are sure to keep your palate salivating for more.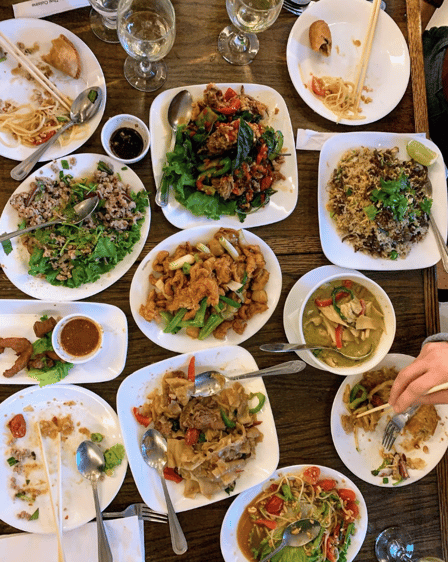 📸: @dustinwilsonms
Read More: Get to Know the World of Riesling Through These Six Producers
The Milling Room (No Corkage Tuesdays) - 446 Columbus Ave, New York, NY 10024 
It's pretty rare to find a BYOB spot dedicated to elevated bar fare, yet on the Upper West Side, The Milling Room overdelivers. The restaurant's large and dimly lit space is dedicated mostly to classic American fare, including seasonal salads, baked fish dishes, and a 60 day dry-aged strip steak. The Milling Room also has a small selection of classic pasta offerings, including cacio e pepe, rigatoni with veal bolognese, and campanelle with mussels. For the best Tuesday night out yet, look no further than this hidden gem. 
Our Wine Recommendation: The Milling Room's signature 60 day dry-aged steak screams for something hearty-- and if you know us, you know that we're big fans of Northern Rhône Syrah. A bottle of your favorite Cab is certain to pair just as well, though we happen to find that the gritty tannins and peppery earthiness of Rhône Syrah makes for an out-of-this-world pairing. 
Bâtard (No Corkage Mondays) - 239 W Broadway, New York, NY 10013
A New York institution with BYOB Mondays? Say no more. This French-inspired restaurant is best-known for its 2-course ($65), 3-course ($89), and 4-course ($99) menu options, featuring classic French and Italian favorites like foie gras, beef tartare, branzino, and aged duck. Best of all, Bâtard is located just around the corner from our NYC shop-- simply grab a bottle and head on over!
Our Wine Recommendation: Our friends at Bâtard like to keep a traditional menu, so we're following suit with our wine pairing. French Restaurant. Pinot Noir. Need we say more?
Read More: Six of Our Favorite Burgundian Producers with an Unbelievable Quality to Price Ratio
Peking Duck House - 28 Mott St # A, New York, NY 10013
Peking Duck House is another industry staple, thanks to their epic Chinese food, central location, and afternoon (lunch menu) offerings. Often referred to as 'the best Chinese food in the city,' Peking Duck House is beloved for its classic Peking Duck dinner menu, steamed dumplings, and crispy spring rolls. The restaurant has impressively been in business for over 20 years, making it a staple within the NYC Asian food scene. 
Our Wine Recommendation: Peking Duck screams for a high acid, low tannin red. Enter Gamay, the sweetheart grape of the NYC wine industry. These delicious, easy-drinking, and downright chuggable bottles of wine are perfect for pairing with the sweet and savory nature of Peking Duck's namesake dish. For a pairing that goes even further, bring a bonus bottle of off-dry Chenin-- we guarantee that one sip of this alongside the duck's signature plum sauce will open your eyes to a whole new world of food and wine pairing delight.
Agora Turkish Restaurant - 1565 2nd Ave #2644, New York, NY 10028
This cozy BYOB place on the Upper East Side is the best place in town for grilled lamb, sour cabbage, and traditional Mediterranean mezze platters. The walls are adorned with classic Turkish decor, giving this tiny spot a very authentic bazaar-like feel. Looking for an instant transport back to your epic Istanbul trip? Look no further than Agora. The restaurant is also open for lunch on the weekends, which takes affordable day drinking to a whole new level.
Our Wine Recommendation: Whether hummus, falafel, or seasoned chicken Adana are more your style, we happen to think that Grenache is one of the best pairings for sipping with Mediterranean inspired cuisine. Similar to rosé, Grenache's tart fruit-forwardness, high levels of acid, and relatively approachable levels of tannins make it one of the most versatile varieties for pairing with a slew of different dishes. Now whether you look to Spain, California, or southern France for your bottle is a whole 'nother question (and we truly believe that there isn't a wrong answer here.)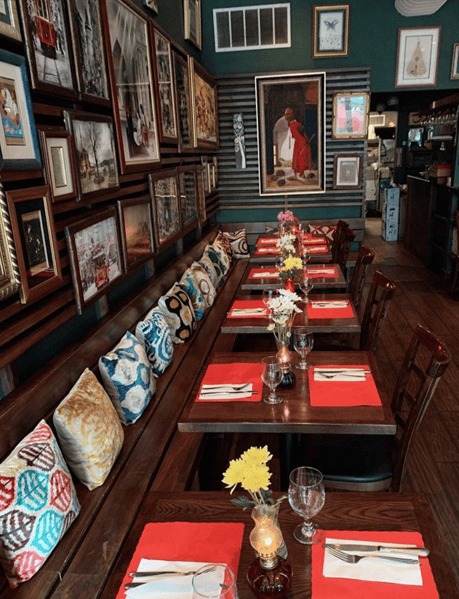 📸: @agoraturkishresturant
King Crab House - 135-11 40 Rd, Flushing, NY 11354
For lobster, fried rice, and all things crab served at an unbelievably low price, head out to Queens' Flushing neighborhood and hit King Crab House. Although the place isn't exactly known for its top-notch service, we believe that that's where the pleasure of BYOB comes in. Serve yourself a hefty pour of your favorite white, take in all of the restaurant's amazing smells, and stuff your belly with authentic Cantonese seafood until your jeans can't hold anymore!
Our Wine Recommendation: BYOBs are ideal for popping top-notch bottles of White Burgundy. Undoubtedly regarded as the king (see what we did there?) of Chardonnay, these rich, round, and insanely complex bottles are perfect for pairing with lobster, crab, and a handful of other seafood-based favorites. However, if Chardonnay from California, Australia, or other New World regions tends to be more your jam, then we totally support bringing a bottle (or few) of these expressions. For the best of both worlds, simply pop open a bottle from both.
Read More: Six Tips for Approaching Burgundy Like a Pro
Lucali - 575 Henry St, Brooklyn, NY 11231
Lucali hardly needs any introduction. A favorite of Beyoncé, Jay-Z, and Brooklyn-based foodies everywhere, this artisanal pizza is hands-down at the top of our list. Cheesy, saucy, and unbelievably satisfying, this city-renowned pizza is totally worth venturing out to Brooklyn for. However, be prepared to hang around in line-- as they say, good things come to those who wait. We recommend showing up at 5, putting your name down, and grabbing a drink around the corner. Trust us though, this 'za is worth the wait. 
Our Wine Recommendation: What grows together goes together, right? We're keeping this pairing as Italian as it gets: mozzarella cheese, red sauce, and a hearty glass (or bottle) of Sangiovese. Whether Chianti, Rosso di Montalcino, or Brunello is more your style, you certainly can't go wrong with this timeless Tuscan pairing.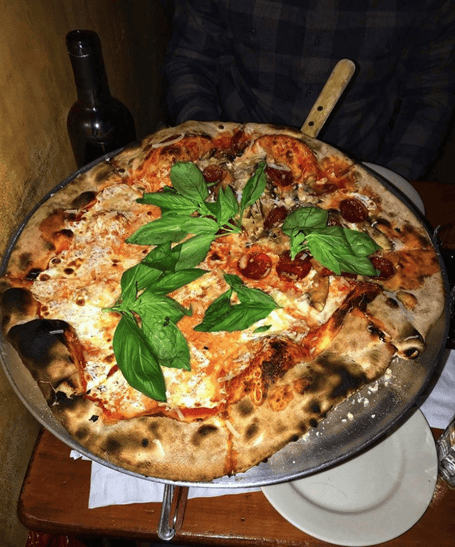 📸: @foodforthecuore
Astoria Seafood - 3710 33rd St, Queens, NY 11101
This hidden Queens gem might just be the most fun restaurant in the entire city. This old school family-owned seafood market is as good as it gets. Known for their fresh fish, singing waitstaff, and undeniable ability to turn any night into a good time, this counter service restaurant is certain to get a little rowdy. For a night of chowing down, drinking well, and potential dining room dancing, check out this classic Greek institution. 
Our Wine Recommendation: High acid whites are definitely the way to go at this seafood mecca. While Sauvignon Blanc is certainly a great pick, we generally like to use BYOBs as our opportunity to ball out on something extra special. 1er or Grand Cru Chablis, anyone?