Beaujolais never gets old. In 2019, we preached the gospel of the region, yet still feel like we've only scratched the surface. Beaujolais will always be one of our top picks for delicious and easy-drinking reds, as the region is home to some of our favorite vignerons who continuously produce bottles that follow our 'good wine' ethos. (Not sure what we mean by 'good wine'? Read our explainer, here). To kick the year off right, we're recommending five unmissable producers from Beaujolais that we're vowing to drink more of in 2020.
Jean Foillard
Jean and Agnès Foillard have been farming 14 hectares of vines centered around Morgon's famed Côte du Py slope since 1980. What makes the Foillard vineyards unique is that most of their plants boast an impressively old age, which lead to lower yields of concentrated, high-quality fruit. The duo's  wines are known for their structure and complexity, as well as their dual ability to drink well in their youth yet also age long-term in the cellar. For Beaujolais wines produced in a more 'Burgundian' style, these bottles are the answer.
The Foillard estate is comprised of 14 hectares of vines rooted into an array of granite, schist, and pink sandstone soils. These vineyards are also planted at relatively high altitudes situated above Villié-Morgon, which allows for optimal ripening and preservation of natural acidity. Wines are aged in used oak and bottled unfiltered. For benchmark Beaujolais that is sure to impress, these are the bottles for you.  

Domaine de l'Epicurieux
Domaine de l'Epicurieux was founded just a few years ago by Sébastien Congretel and his Beaujolaise wife. After deciding to leave the oil industry, the Southwest France native moved to Régnié and purchased a plot of vines in the heart of Morgon. 2015 was the couple's first vintage, though it was really Sébastien's wife and father who worked the whole harvest and vinification process from start to finish. (Sébastien jumped on board full-time the following year.) Sébastien's drive to create the estate was rooted in his desire to 'get back to the basics,' that is, to get his 'hands back in the dirt, head in the stars, and live according to the rhythm of the seasons.'
All of Domaine de l'Epicurieux's vineyards are farmed organically and Sébastien plans to experiment with biodynamics in the coming years. The moon and its cycles play a significant role in the couple's approach to farming and vinification, as they feel this observance helps them to fully understand what's going on in their surroundings. As bona fide Bojo lovers, we mean it when we say that you should definitely keep your eye on these guys-- this is the future of Beaujolais.
Pierre Cotton
Pierre Cotton, a former motorcycle mechanic, founded his namesake estate just a few years back. After a few formative years spent in the Loire Valley, he returned home to Brouilly to begin farming vines in his homeland. He officially produced his first wine, 100% Cotton, from Côte de Brouilly fruit back in 2014. Since then, Pierre has added small plots of vines to his holdings from prestigious growing sites across the region and continues to produce honest, easy-drinking wines that rival some of the region's best.
Cotton's winemaking philosophy is simple: farm responsibly and vinify with limited intervention. Much of his vinification inspiration comes from his fellow vigneron friends, including Yann Bertrand, Jules Metras, and Keke Descombes. All of Pierre Cotton's fruit is farmed organically and is vinified semi-carbonically in large cement tanks. Aging is done for 6-9 months in old foudres and no sulfur is added during vinification/bottling. The resulting wines are juicy, bright, and downright delicious, each one unique and thought-provoking in their own right.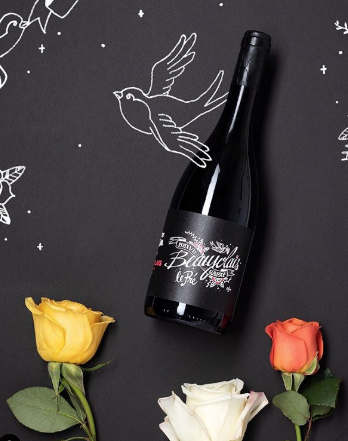 Terres Dorées 
Although often overshadowed by its more popular 'cru' cousins, the southern portion of Beaujolais is home to some of the region's most exciting and talented vignerons. Here, Jean-Paul Brun founded Terres Dorées back in 1979. The estate, which is now comprised of 12 hectares, is located in the small village of Charnay. Unlike the granite soils that dominate most of the region, the soils of the southern Beaujolais are more limestone heavy. Brun farms each of his parcels organically and harvests are always done by hand. 
Brun also prefers to vinify his fruit in a more 'Burgundian' style, meaning that he forgoes the use of carbonic maceration and implements standard fermentations in the cellar instead. All fermentations are done with native yeasts, regular pigeages and punchdowns are executed, and aging is done in a combination of concrete and/or used oak. Brun's wines are known for their purity, precision, and innate ability to reflect the place from which they come (which is one of the most overlooked and underrated growing sites in all of France!)
Marcel Lapierre
And when all else fails, returning to the classics is always a good idea. Marcel Lapierre took over his father's estate back in 1973, though it was a chance encounter that took place eight years later that changed his life forever. Lapierre met his  'spiritual godfather,' Jules Chauvet, who was a devoted chemist, avid studier, and viticultural pioneer. Chauvet first spoke out against the use of chemicals and pesticides in vineyards, creating a cult following from neighboring vignerons Guy Breton, Jean-Paul Thévenet, Jean Foillard, and the leader of the pack, Marcel Lapierre.
Lapierre took the driver's seat when it came to implementing these 'revolutionary' practices, which were actually just a return to traditional viticulture and vinification.  Although Marcel tragically passed in 2010, his legacy is carried on by his son Mathieu and daughter Camille, who continue to produce honest and terroir-driven wines from organic/biodynamic fruit and a minimal interventionist approach in the cellar.