Five of Our Favorite Food & Wine Pairings for Fall
Savoring fall's many robust flavors is one of the things we look forward to most about autumn. After kissing the summer season goodbye, there's nothing we love more than cooking up a hearty dish at home and serving it alongside something equally delicious. This week, we're rounding up our favorite fall flavors and matching them with an ideal by the glass (or bottle!) pour. Grab your sweaters, corkscrews, and favorite glassware-- it's about to get cozy in here!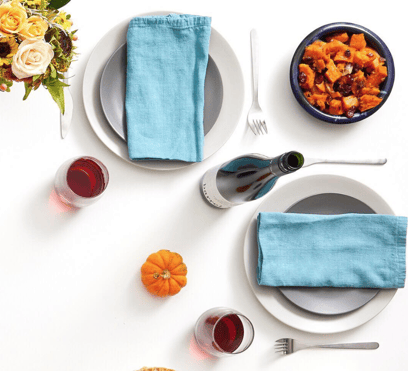 📸: Verve Wine
Butternut Squash - Chenin Blanc 
Whether roasted, baked, or puréed into soup, butternut squash and fall simply go hand in hand. The sweet and savory flavors of this fleshy gourd are brought to life when served with a zesty splash of Chenin Blanc. The wine's high acid, apple notes, and strong mineral presence make it one of our top picks for pairing with fall fare. Get crafty by throwing some freshly sliced apples into your squash-based dish to add an undeniably electric kick to this seasonal food and wine pairing!
Savory Stews - Syrah
Nothing screams fall like a hot bowl of hearty stew. Whether braised beef, pork, or lamb is more your style, choosing a bottle of spicy, earth-driven Syrah to serve alongside your crockpot creation is sure to satisfy. Vegetarian/vegan? No sweat. Lentils, black beans, and other legumes are equally delicious with a peppery bottle of Syrah. Look to the Northern Rhône or Santa Barbara County for some of our favorite varietal expressions.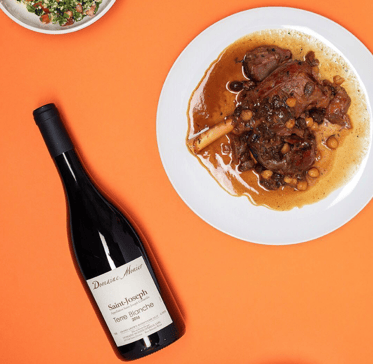 📸: Verve Wine
Roasted Root Vegetables - Viognier
Seasoned root vegetables and an unctuous glass of palate-coating Viognier is one of the fall's greatest food and wine pairing treats. The low acid and honeyed flavors in Viognier bring out the sweet yet subtle undertones of carrots, parsnips, and turnips. Simply chop your veggies, drizzle with olive oil, season with thyme, rosemary, and black pepper, then cook for 45 minutes and 400 degrees for a flavor-packed side dish.
Crockpot Chili - Garnacha
Is there anything more satisfying than a piping hot cup of chili on a blustery fall day? Next time slow-cooker chili is on the menu, consider popping a bottle of Spanish Garnacha. The wine's approachable tannins, bright acidity, and poppy fruit-forwardness perfectly balance the hearty flavors and abundant spice found in chili. Look to earthy, thought-provoking expressions from Comando G and Dani Jimenez-Landi for some of Spain's greatest expressions.
All Things Mushroom (Cremini, Shiitake, Porcini) - Pinot Noir 
Ever had that 'ah-ha' food and wine pairing moment when everything suddenly makes sense? If not, we recommend heating up some mushrooms and pouring yourself a glass of Pinot. The savory, soil-driven notes of Pinot Noir are a match made in heaven when served alongside equally earthy mushroom-based dishes. Whether risotto, chicken marsala, or plain sautéed mushrooms are your jam, popping a glass of Pinot Noir will never disappoint. Test this pairing twice: first with a New World bottling (think California, Australia, or New Zealand) and then with a bottle of Red Burgundy. You'll thank us later.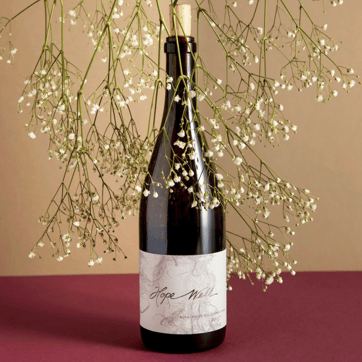 📸: Verve Wine
Bonus Pairing:
Apple Cider Donuts - Off-Dry Riesling
No fall season is complete without at least one indulgence in apple cider donuts-- though who's to say that you can't simultaneously eat and drink your dessert? We're always impressed by the insane versatility that off-dry Riesling brings to the table. Whether serving with savory takeout, spicy hot dishes, or sweet treats, these bottles complement an array of flavors and heat levels. Looking to dive deeper into the world of Riesling? Check out our global Riesling explainer, here.