Producers We Love: Dominio del Águila
Spanish viticulture is seeing a renaissance like never before. For far too long, Spain was synonymous with bulk wine and subpar swill, but today, things are changing for the better. Producers across the nation are working harder than ever to showcase the unique terroirs of this viticulturally rich country, shedding light on the undeniable quality and structure that its vineyards can provide. In Ribera del Duero, Jorge Monzón is pioneering organic viticulture and meticulous craftsmanship in the cellar, showing the world just how elegant, ageworthy, and delicious wines from Ribera can be. 
Dominio del Águila was founded in 2010 by Jorge Monzón in his hometown of La Aguilera, located in the heart of Ribera del Duero. Monzón, an eager and dedicated young winemaker, sought to learn from the best of the best. During his time in oenology school, he traveled to Burgundy and persuaded the world-renowned Domaine de la Romanée-Conti to give him an internship, despite not speaking the French language. His hunger to learn breached linguistic boundaries-- and Bernard Noblet (DRC's renowned cellar master) took notice. 
Monzón brought his newly acquired knowledge back to La Aguilera, his hometown in Ribera del Duero, and continued to learn more. He spent a handful of years working at Vega Sicilia, then took a position at Arzuaga-Navarro. During this time, Monzón began purchasing small vineyard plots around his village, most of which were planted to indigenous varieties. At the time, these sacred old vines were being ripped up and replaced by more popular international grapes. If there was one thing Monzón learned at DRC, it was that terroir-reflection and preserving local tradition were of utmost importance. Monzón immediately felt called to shed light on these precious plots.
Today
Today, Monzón and his wife, Isabel Rodero, cultivate 66 hectares of organic vines across Ribera del Duero, which range from 60-150 years in age. The couple also renovated three 15th century cellars, the entire process of which was overseen by Isabel, a skilled and savvy local architect. Monzón and Rodero's mission is to create high-quality, balanced, and terroir-reflective wines that showcase the unique growing sites of their region. The hope for these bottles it that they are easily enjoyable now, yet also make for viable long-term cellaring candidates.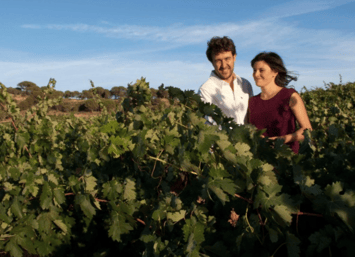 Jorge and Isabel    📸: IPO Wines
Ribera del Duero is known for big and bold red blends dominated by the Tempranillo grape. However, Monzón is seeking to change that perception at Dominio del Águila. Here, Monzón uses the region's hot and sunny daytime temperatures to his advantage, allowing fruit to ripen to his desired level. The region's soils are dominated by both sandy clay and gravel, both of which are situated above limestone bedrock. Ribera del Duero as a whole is relatively flat and rocky, with overall climate conditions moderated by the Duero River. Summers are hot and harsh and winters are equally extreme, characterized by near-freezing temperatures. Annual rainfall is extremely low-- the region sees over 2,400 hours of sunlight every year!
Vinification + Wines
At Dominio del Águila, all 66 hectares of fruit are cultivated organically. Natural yeast fermentations are implemented across the board, as well as whole cluster co-fermentations. Pigeages are executed by foot. Post-fermentation, all juice is placed in oak to undergo malolactic fermentation and élevage. In addition to vinifiying their own wines, Monzón and Rodero also sell grapes to neighboring wineries. 
Although the DO technically doesn't recognize white wines, Monzón couldn't help but feel called to showcase the unique and ultra-special characteristics of his old vine Albillo, which he uses to create his 'Vinas Viejas.' Vines are 70+ years old and produce concentrated, high-quality fruit, which ages for 12-14 months in neutral French oak on the fine lees without batonnage or racking. 'Picaro Clarete' and 'Picaro Tinto' are field blends. Fruit for these two cuvées grows in clay soils, which allow clusters to reach optimal ripeness. 'Reserva' comes from various parcels of 90-year-old vines rooted in sandy clay-limestone soils. In this blend, numerous indigenous varieties are co-vinified with Tempranillo to add texture and character to the final wine, a trait which Monzón believes full showcases the terroir of La Aguilera. 'Pena Aladas Gran Reserva' is also comprised of a co-ferment of indigenous varieties, aged extensively in oak to allow the wine to soften and evolve prior to release. 'Canta la Perdiz' is a single-vineyard wine crafted from 100 - 150-year-old vines, most of which are ungrafted. Vines are south-facing and located at high elevations, rooted into gravelly clay over limestone bedrock. Monzón finds 'Canta la Perdiz' to be the most aromatic of his wines, showing serious elegance and undeniable structure.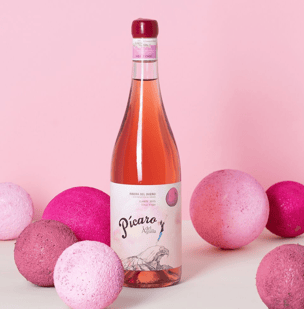 Picaro Clarete  📸: Verve Wine
Domaine del Águila's versatile range of wines make them perfect for pairing with a variety of cuisines. Monzón's old vine Albillo is a stellar match for hearty salads and rich fish dishes, while the bigger-bodied red blends pair gorgeously with an array of grilled meats, veggies, and tomato sauces. The insanely high-quality of Domaine del Águila's wines make them delightful to drink now yet also render them extremely capable of long-term cellar aging. We can't get enough of all that Jose Monzón and Isabel Rodero are doing in Ribera del Duero and we look forward to sharing more of these wines with you in the future!