The Only Fourth of July BBQ Recipe You'll Need This Weekend (Wine Pairings Included!)
Summer has officially settled in and that can only mean one thing: Fourth of July weekend is just around the corner! There's no better way to celebrate the Fourth than barbecuing outdoors, sipping delicious wines, and hanging around in the backyard with friends-- and nothing screams 'Merica like hot dogs on the grill. This year, we're making sure all of your July 4th food and wine needs are met. Check out this mouthwatering homemade hot dog recipe created by our in-house Michelin star chef, Austin Johnson! Succulent, savory, and undoubtedly synonymous with summer, these homemade sausages are perfect for serving at all of your Fourth of July weekend festivities. DIY dogs never tasted so good! (NOTE: This recipe is indeed a 'Michelin Star' recipe, so some special equipment may be required. However, if you have a smoker, meat grinder, and standard Kitchen Aid attachments, these are hands down the best hot dogs you'll ever make!) 
With regards to wine, barbecue fare's savory, smoky, and deliciously robust nature requires something with a bit of structure to stand up to the cuisine. That's why we're advocating for crushable summer reds and savory, high-quality rosés all summer long. Although we at Verve Wine advocate for drinking what you love, there's no doubt that lighter-bodied reds (served slightly chilled, of course!) and food-friendly rosés make for perfect barbecue pairings. We're talking Gamay from Beaujolais, balanced and crushable New World reds, and top-notch rosés as far as the eye can see. For a chuggable and food-friendly Gamay that does it all, check out Jean Foillard's Morgon 'Cote du Py' 2017. For something silky and structured, Presqu'ile's Santa Barbara Pinot Noir is the answer. And for a versatile rosé that can do it all, look no further than Terrassen's Blaufrankisch Rosé. 
Chef Austin Johnson's Homemade Summer Hot Dogs!
Serves 6 people
Ingredients:
17oz lean beef 
3.5oz beef fat
3t nitrate salt
2t mustard powder
2t paprika
1t coriander, finely chopped
1t chopped white pepper 
1t garlic powder
1.5t sugar
2.4oz crushed ice
1 lamb casing -  20/22 mm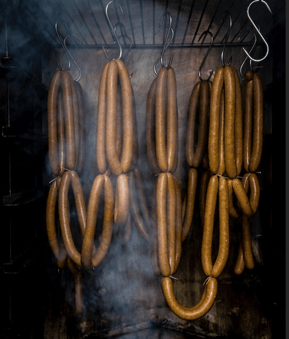 Instructions:
The day before, coarsely chop the beef and beef fat into 2x2in cubes. Mix with all other ingredients and place in the fridge until cold. Grind the mixture on the medium die, then again on the fine die. Place the ground meat in the fridge for at least one hour. When the mixture is cold, grind the meat again on the finest die. Repeat again until a very smooth and homogeneous mixture is obtained. Transfer the mixture into a cold mixing bowl with the paddle attachment.  Mix the sausage on medium speed until fully emulsified. Cover with plastic wrap and set aside for one night in the refrigerator.
The following day, preheat the smoker to 160F. Remove the cold meat from the fridge and transfer to a sausage maker. Pipe the meat into the casings until you have reached your desired hot dog length. Smoke the sausages for one hour in a preheated smoker with smoking wood chips. Smoke until their internal temperature is 150F.  Remove them from the smoker and let them cool to the ambient temperature. 
Hot Dog Relish
Ingredients:
1ea red onions
1ea green bell pepper
1ea red pepper
1ea yellow bell pepper
Clean and finely dice all vegetables. Set aside.
Pickling Liquid
Ingredients:
1cup white balsamic vinegar
2T salt
8T white sugar
Bring all ingredients to a boil and pour over all of the finely brunoise vegetables.  
Final Instructions:
Cook the hot dog on the grill after smoking and serve on your preferred bun with desired condiments.