Everything You Need to Know about Summer Sipping
No matter what your preferred summer activity may be, one statement rings true across the board: all seasonal festivities are made better with wine. So which bottles pair best with all of summer's sun-soaked scenarios? From salty beach days to simple weekend picnics, here are our top wine picks for all of your favorite summer activities.
Backyard Grilling - Crushable Reds
Nothing screams summer like grilling in the backyard with friends and family. Whether charred veggies, juicy burgers, or delicious hot dogs are your jam, grilled foods in the backyard call for something a little heartier than crisp summer whites. We recommend stocking up on a supply of crushable red wines, perfect for pairing with heartier summer cuisine. From Gamay to Syrah and a slew of varieties in between, we can't get enough of these deliciously food-friendly bottles. Don't forget to serve with a slight chill for ultimate #PatioPounding fun!
Read more: Why You Should Be Drinking This Red Wine During Warm Weather Months
Summer Beach Days - High-Acid Whites
Soaking up the sun definitely requires a glass of something thirst-quenching. When laying on the beach, we can't get enough of crisp, high-acid whites to keep our palates salivating. Look to higher acid varieties such as Albariño, Chenin Blanc, or Riesling for savory seasonal options. Pro tip: Toss your juice into an insulated thermos to keep wine fresh all day long.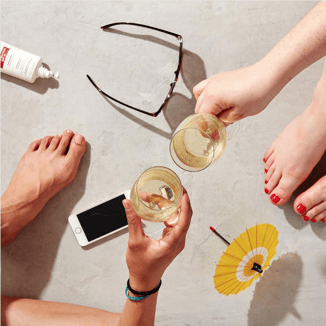 📸: Verve Wine
Picnics at the Park - Canned Wine
No picnic in the park is complete without a side of delicious wine. However, lugging around multiple bottles, corkscrews, and glassware isn't exactly ideal-- which is where conveniently packaged canned wine comes in! Forget the mass-produced swill that used to be synonymous canned wines. Here at Verve Wine, we hold our canned wine to the same benchmarks that we do standard sized bottles. All of the canned wines we source are produced sustainably and taste super good, meaning there's no need to sacrifice quality for convenience.
Lazy Afternoons by the Pool - Rosé
Afternoons by the pool and rosé go hand in hand. There's no better summer feeling than sipping on a glass of pink with your toes dipped in the water. We source our rosé from sustainable growers, ensuring that the wine shows a serious sense of place while also tasting downright delicious.
Read More: Here's How to Crush Rosé All Season Long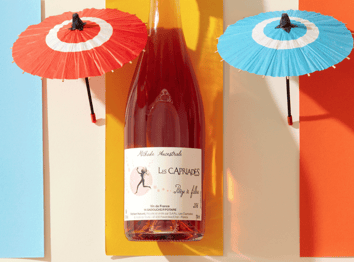 📸: Verve Wine
Long Weekend Getaways - All Things Sparkling
Although we believe that sparkling wines are meant to be consumed regularly, there is undoubtedly something special about popping a bottle to celebrate the little things in life-- and what better way to celebrate summer than with a solid three-day weekend? Whether jetting out of the office early on a Friday or simply 'calling in sick' on a Monday, make your weekend all the better by toasting with a glass of bubbles. From Champagne to pét-nats and everything in between, when it comes to summer fizz, we've got you covered.
Pro tip: The best way to ensure you're not without wine this summer season? Stock up in advance! Follow our guide to building the perfect go-to case of wine to be on your way to your best summer yet.