Meet Our Wine Bar Extraordinaire Friend, Ariel Arce!
Ariel Arce truly does it all. A native New Yorker, Arce grew up in a home with parents who entertained frequently, where wine was consistently served amongst friends and family. However, the wine bug really bit her when she began working under Max McCalman, Master of Cheese and founder of the world-renowned fromagerie, Artisanal. Fast-forward just a short period of time later, and Arce now owns four of Manhattan's hottest places to drink wine, one of which just opened this past week. Get to know more about Ariel, the methods behind her badass business planning, and how she worked her way to the top of NYC's Champagne game through our exclusive interview, here.
Name/Company/Position:  Ariel Arce / Owner of Air's Champagne Parlor, Tokyo Record Bar, Niche Niche, and Special Club 
Where are you from: Hell's Kitchen, New York 
Where do you currently live? Hell's Kitchen, New York 
How did you first get into wine?

I really just fell into it. My parents were big entertainers, that's how I was raised. They were always throwing dinner parties, always exploring very entry-level wines. Wine was just never taboo in our household, so it was always kind of normalized.
I guess my wine career really started I worked for Max McCalman, the master of cheese that started Artisanal. He would do these crazy cheese and wine classes, and he really taught me a lot about the fundamentals of pairing and of taste. Because cheese is so regional, we'd do wine accordingly, and that was my first real entry into varieties and regions. After that, I went on to work for Chef Grant Achatz. I was always self-studying and fell in love with Champagne-- that's where my career in wine begins I don't consider myself a wine expert, but I am a specialist in Champagne and sparkling wine.
What was your first job in the industry? 
Bartender at a sports bar near University of Michigan!  
How has your mother influenced your career? 
My mother has influenced my career because she wanted me to have every experience possible that she never had. As a young person, I was kind of overbooked at all times; I was a gymnast and would train for four hours a day/five days a week, as well as a professional actor from ages 8-18. I sang, I danced, I went to school-- at some points, my mother also made me play an instrument, too. So from a young age I was conditioned to be a high-functioning individual and it taught me how to be efficient.
But my mother was also incredibly creative. She was an artist, so she really valued the arts and alternative thinking. It's a huge part of what I bring to my spaces, while also having the ability to think outside of the box and trust/rely on myself on how to execute.
You have three really cool, unique spots here in NYC. Tell us a bit about each of them and how you came up with the concepts.

Air's Champagne Parlor is really intended to humanize Champagne and make it approachable, affordable, and accessible. I know those aren't the sexiest terms, but that's my mantra. I always check back on what we do and make sure those three things are there. Also, Air's is very female-centric. The people that work there are incredibly educated and very comfortable being able to discuss Champagne in a non-pretentious, non-'wine-esque' way.  It's meant to just be a place to come and have fun and drink really good wine at a really great price, and you happen to get an amazing education if you want.
Tokyo Record Bar - This one has a schtick: the vinyl jukebox. We do two or three seatings a night. It's a 7-course omakase for 50 bucks. When guests come in, they pick a song, hand it to the DJ, and he/she comprises a playlist over their 2-hour dining experience. It's a very non-passive, communal dining experience.
Niche Niche - Here, it's a dinner party with wine education 2.0! We ask our friends from all around the community to curate a tasting every night of the week, then my chefs plan a dinner around their wine selection. Wine is always first here. It's $40 for the tasting and $40 for dinner, and people get to drink wines that they never have picked off of as shelf, or wines that they would probably never buy in a restaurant because they're too expensive. Basically, guests get to experience smaller portions but wider varieties of wine.
Special Club - We just opened yesterday! It's underneath us [at Niche Niche.] Special Club is a musical social club, with a focus on blues, soul, and jazz in a food and beverage space.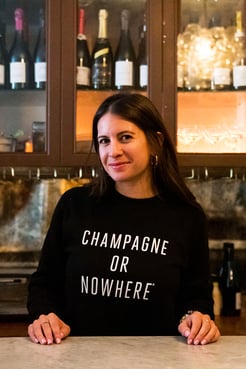 Ariel at Air's Champagne Parlour showing off her Knowlita x Verve Wine Champagne shirt 
Love Ariel's sweatshirt? Grab yours here!
How do you go about building your teams for each spot?

Kindness first.
Who inspires you outside of the wine industry and influences your work the most?
My Dad. I also listen to a lot of entrepreneurial podcasts, too. Anyone who feels driven to create is really inspiring, especially those who are able to do that with an out of the box mindset. There are a lot of founders and entrepreneurs that I resonate with.
What else do you have in the works?

A lot! (Stay tuned!)
What gets you so pumped about Champagne?

Champagne is a drug, in the sense that the second you open a bottle of it, everyone puts their glass out. It's always fun. I personally have a relatively classic palate, I like really pretty wine. Now that it's really beautiful out, the only thing I can think about is when I can sit next to a pool and drink Champagne!
Who are your top three Champagne producers at the moment?

Dhondt-Grellet, Christophe Mignon, and Huré-Freres (and low key Krug everyday!)
What do you like to drink when you're not drinking Champagne?

Pretty basic, Chenin and Chard! Haha. And a Tequila Gimlet.
Where are some of your favorite places to drink wine in NYC (besides your own spots, of course?)
Emmett's! It's really hard for me to answer this question because I get to work with the best wine professionals in NYC every night of the week and it's a dream to get to frequent any of their places… but the reality is that I'm stuck at 43 MacDougal every night of the week!
What was a wine that changed your life and why?
Gosset 2000. It's funny now looking back that that's a 19 year old wine. That was the first time I ever really tasted vintage Champagne and 'got it.'  I finally understood what it was all about. It was a pretty ethereal moment tasting that wine.
What do you love most about your job(s)?
The people I get to work with.
If you had to work outside of the food + beverage industry, which career path would you choose?
The music industry!