Our Top Wine Pairings for Easter & Passover Favorites
Although your holiday table may look a bit different this year, we can't think of a better time than now to pop some delicious bottles with the company that you're able to have. While it may just be you and your significant other/roommate, or perhaps you're flyin' solo, we believe that nothing raises the spirits like a tasty home-cooked meal paired with something great. We've rounded up a list of our top wine pairings for ten classic Easter and Passover dinner staples, perfect for elevating your holiday meal wherever you find yourself this year. From our Verve Wine family to yours, we wish you a happy and healthy holiday!
Baked Ham - Chenin Blanc 
Baked ham and Easter dinner simply go hand in hand -- and when it comes to the savory, sweet-tinged notes of this juicy meat, we can't think of a better pairing than Chenin Blanc. The wine's green apple flavors and honeyed notes beautifully complement the slightly sweet flavors found in ham. Because of its naturally high acidity and minimal amounts of residual sugar, off-dry Riesling also makes for an excellent pairing for this dish.
Recommendations : Château de Bonnezeaux and Stéphane Bernardeau's 'Les Ongles' are two of our current Loire Valley obsessions, though anything from Château Yvonne or Thibaud Boudignon is always promising.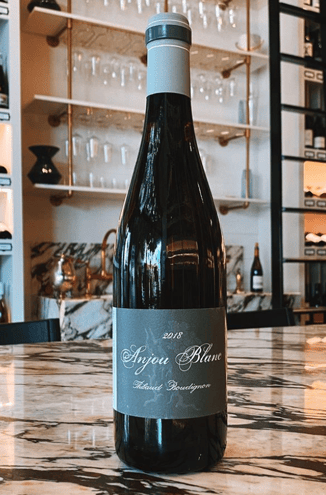 📸: Verve Wine
Oven-Roasted Asparagus  - Gruner Veltliner 
It's been said that pairing wine and vegetables, particularly green ones, is nearly impossible -- we're here to prove that statement wrong. Although it can be a bit trickier, when you find wine and veggie pairings that work, marrying the two together can provide some of the most exquisite pairings on the planet. Asparagus can be tough, however, the white pepper and herbal notes found in Austrian Gruners can make this seasonal veggie's flavors come to life. 
Recommendations : Alzinger and Prager are some benchmark producers for Austrian Gruner, though if you're familiar with these picks, we recommend diving into something new!
Matzo Ball Soup - Sauvignon Blanc
Nothing warms the soul like a bowl of Matzo ball soup. To enhance the soup's savory herb-driven flavors, we recommend pairing it with an equally herbal and high acid wine. The crisp acidity found in Sauvignon Blanc is certain to leave your palate salivating for more -- though we're sure a delicious homemade version of this soup would do that anyways!
Recommendations : Zorzal (Mendoza) and Laporte (Sancerre, Loire Valley) are our top two New World and Old World picks at the moment. For Old World expressions, looking to Sancerre or other Loire Valley appellations is always a good choice.
Beef Brisket - Zinfandel or Cabernet Sauvignon
The sweet yet robust flavors found in beef brisket scream for an equally jammy and robust wine, especially one with a healthy amount of mouth-coating tannins to stand up to the meat's fat content. Enter Zinfandel or Cabernet Sauvignon. The juicy fruit-forwardness and bright flavor profile of California Zin perfectly complements the sweet and succulent flavors of the meat, while an equally punchy Cab basically does the same thing, just with a bit more tannic structure. 
Recommendations : Ridge is a legend in the world of California Zin, and when it comes to Cabs… well, the amount of exceptional options is simply endless.
Honey-Glazed Carrots - Viognier
Root vegetables and Viognier go hand. The savory yet somewhat sweet flavors found in carrots play gorgeously off the honeyed stone fruit flavors found in Viognier. Additionally, the wine's lower amounts of acid create an unctuous texture in the wine, which takes this pairing's savory factor to a whole 'nother level. Seriously, you've got to try this one.   
Recommendations : Rhône all the way! Monier-Perreol, André Perret, and Domaine Georges Vernay are some of our top picks at the moment. 
Baked Fish (Salmon or White) with Lemon - Freestyle! 
Who doesn't love a freestyle pairing? In the world of baked fish, the world is your oyster. When it comes to finding a stellar wine pairing, we recommend considering the sauce being used. Are you simply squeezing lemon over the fish? Then a zesty, high-acid white (think Albariño or Sauvignon Blanc) is key. For something a bit more savory, a light-bodied red (Pinot Noir, Gamay) would be great. And when all else fails, rosé is always a killer food and wine pairing option -- as if we needed to give you an excuse to have a bottle of it open on your Easter/Passover table…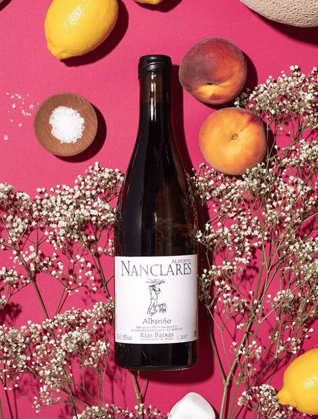 📸: Verve Wine
Recommendations : We love the single-vineyard Albariños produced at the hands of Alberto Nanclares if you're thinking white, and when it comes to drinking pink, we've got a ton of options. Hit up one of our staff members to hear their current favorite recommendation! 
Roasted Rack of Lamb - Syrah
Roasted rack of lamb and Syrah is the epitome of a top-notch food and wine pairing. Pairing a bottle of earth-driven, gamey Syrah beautifully matches the peppery herb crustings and hearty flavors of the meat. Our palates are salivating just thinking about it. If you can only snag a few pairings this year, make sure this is one of them. 
Recommendations : Our love for the Northern Rhône knows no limits. Whether hitting up the classics (Chave, Clape, Allemand) or diving into the up-and-coming (Aurélien Chatagnier), this region never disappoints.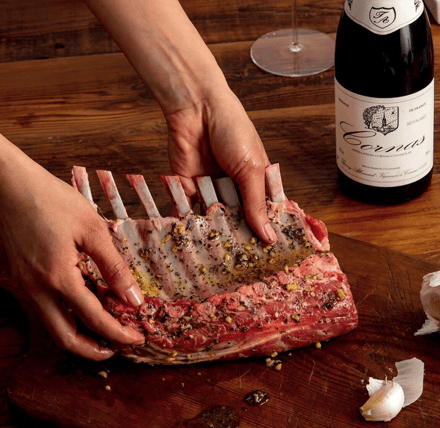 📸: Verve Wine
Deviled Eggs - Bubbles (especially Grower Champagne!)
Love 'em or hate 'em, deviled eggs always seem to find their way into pre-dinner snacking hour at Easter suppers. Here at Verve Wine, we find that there's no better wine to serve with hors d'oeuvres than Champagne. It's fun, it's festive, and its naturally high acidity gets your palate prepared for the large supper to come. Although we believe that Champagne is meant to be popped year-round, there's no denying the extra appeal that comes with cracking a bottle before a big holiday meal. 
Recommendations : Dhondt-Grellet and Pierre Peters are always two of our go-tos, though Chartogne-Taillet and Jacques Selosse (if you really feel like being a baller!) are always exceptional.
Read More: Sparkling Wines from Around the World, Explained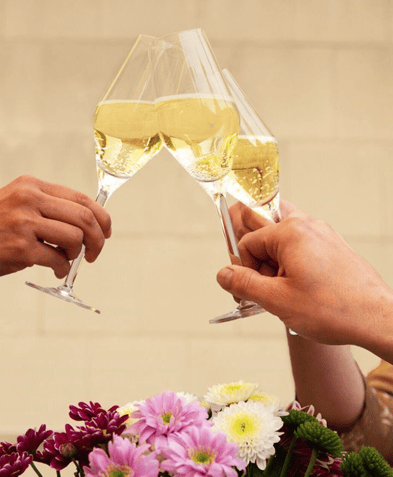 📸: Verve Wine
Potato Kugel - White Burgundy 
Potatoes, onions, and seasoning -- need we say more? Although there are many riffs on this traditional Passover favorite, one thing is always consistent : Everyone. Loves. Kugel. In classic highbrow/lowbrow pairing style, we can't think of a better wine to serve beside this simple potato-heavy dish than White Burgundy. The rich and round flavor profiles found in these top-notch bottles of thirst-quenching Chardonnay will take this dish to a whole new intensity of deliciousness. Talk about leveling up!
Recommendations : We love White Burgundy in all of its many forms, and to be honest, you really can't go wrong here. 
Read More: Why We're Crazy About White Burgundy
Chocolate (Bunnies!) - Dessert Wine
It's inevitable -- marshmallows, candies, and chocolate bunnies are definitely destined to find their way onto your Easter supper table. The one cardinal rule for pairing wine with sweets is that the wine should always be sweeter than the treat in question. For classic milk chocolate bunnies, we recommend a hearty pour of tawny port. For dark chocolate options, PX Sherry or Vin Santo are both great options. And for bunnies of the white chocolate kind, look no further than a delicious bottle of frothy Moscato. 
For jellybeans, peeps, and all other non-chocolate candies, you absolutely (and we mean absolutely) need a bottle of Patrick Bottex Bugey-Cerdon NV. This low-alcohol bottle of pleasantly sweet bubbles will honestly change your life. No candy? No problem. This wine is all you need to end your meal on a high note. 
Recommendations : Niepoort's 10-Year Tawny, frothy Moscato, and #BadAndBugey for the win!